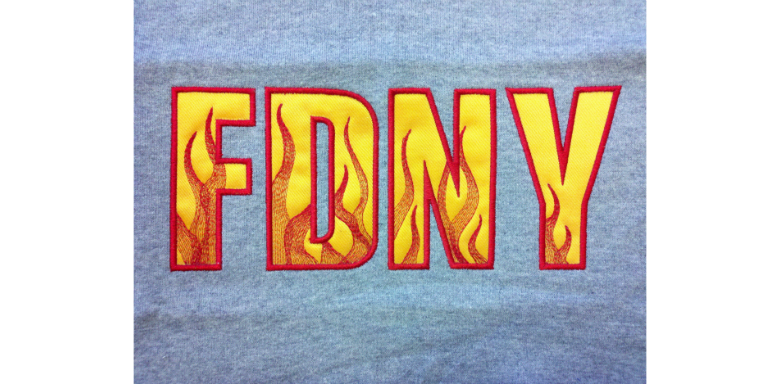 Appliqué is traditionally used to cover large, flat areas for designs with a great deal of coverage. Though appliqué is great for jersey numbers and large mascot designs, there are a lot more options with appliqué to go beyond the ordinary. Here are a few ways to use appliqué differently to spice up your decorations.
Make it easy with a tear-away appliqué material. Many decorators are aware that you can use heat-press glitter flake material to create appliqué-styled designs that sparkle, tearing away the excess material instead of requiring pre-cut pieces and perfect placement. You may not know that you can use almost any heat transfer decorating material to achieve this look. Standard cut transfer film almost looks like a leather insert when used in this fashion, and with the advent of patterned transfer materials and custom print materials, there are a world of options for adding color and pattern to your designs, let alone the texture and shine you get from options like flocked material and the aforementioned glitter flake as well as holographic and foil materials. Just remember to heat press according to the manufacturer's instructions when you are done.
Create a retro applied-patch look with a faux-emblem design. The popularity of the patch in recent years has left an imprint on the embroidery industry with more and more clients trying out the retro applied-patch style. That said, not all clients are keen on the extra thickness and stiffness, nor do they love the loose edges that catch on a conventional, stitched-on emblem application. You can create the look of a patch by using a twill appliqué inset in a classic patch shape under your client's logo. Creating a combination satin-stitch border with an inset triple-stitch inner edge makes the "patch" design look like a classic stitched-on patch, but with the smooth edge and less bulk of a direct embroidery design. Not only is this a great aesthetic choice for that retro style but this treatment is a great way to support a finely-detailed design that has to stitch on a textured material. Use a fine-grained twill that stitches cleanly for tiny lettering.
Go 3D. For those of you who work in fashion or home furnishings, consider a three-dimensional appliqué for your next textile creation. Create or procure a three-dimensional appliqué design. A great example would be a 3D floral appliqué in which sets of petals are created as free-standing lace, then layered and stitched down to the garment or textile with a central design to create a dimensional textile flower that stands up from the surface.
Stitch over for texture. Though appliqué is largely used to save stitching, with only a light covering of stitches, you can create interesting textures in your appliqué. A large diamond pattern over your appliqué material creates a classic quilted look, while light density fills and shape motifs add shading and pattern as well as texture. Stitching over an existing element isn't only for the appliqué fabric, either. Create interesting borders beyond the standard satin or zig-zag by using motif stitching over the appliqué edge or by stitching motifs, zig-zags, or other patterns over your satin edge. You can even texture the satin stitch itself by using a patterned satin with custom stitch penetrations to create a single-color carved texture.
Reverse it. If you've only ever done standard appliqué, it may seem counterintuitive, but reverse appliqué is the method by which you stitch your applied material behind the garment, then cut away areas of the garment to reveal the applied material. Whether you leave it rough or stitch over those cut-away edges with a smooth satin, the effect is to create an inset design. This is particularly eye-catching when you use a patterned fabric or a sublimated full-color image for your background material, revealing the interesting print behind the fabric of the garment. Though this is most efficiently done with a garment laser, sharp, small scissors and a steady hand make this work possible, albeit labor intensive.
Use unorthodox materials. What would your design look like with a faux-fur or faux-reptile textured fabric insert?
How would sparkling upholstery vinyl, woven lace, or a pre-embroidered tulle look for your appliqué design? Though you may have to test for fraying and make sure your material launders like your garment, unorthodox fabrics lend an incredible dimension to your appliqué designs without changing a thing about the design itself. These methods aren't for every customer and will cost more due to the added labor, but they really set your shop apart creatively if your competition sticks to the basics.
No matter how you choose to use appliqué, make sure you are charging enough to make your work profitable. If you must hand-cut, check on that labor and make sure it makes sense. If your out-of-this-world treatments take off with your customers, look for a laser or consider partnering with a laser-cutting firm.