Once the surface space is chosen and the right film has been selected, installation of the interior wrap can commence. A benefit of indoor graphics is not having to contend with inconsistent lighting as sunlight doesn't typically present a problem. But that also means that any flaws in the graphics or installation will be ever visible without variations in the lighting.
"For interior colors, if there are shadows and low light conditions, we use brighter colors and colors that enhance the room," says Andrew Napolean, owner of A&M Graphic Wraps. "Colors are key in all aspects of advertising from being loud to being soft. They can set the mood from the very beginning."
Perfecting the seams and edges is another way to make sure no flaws are easily visible. Installers should take measurements and plan where graphic panels will be affixed.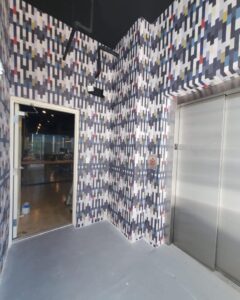 "When installers do large interior wraps there are typically going to be multiple panels involved, which means they will have to seam the panels," says Joey Heiob, Avery Dennison Graphics Solutions. "The recommended overlap seam width is one inch. When working with textured films, the use of either adhesive promoter or banner hem tape is required to provide extra hold for those types of film seams."
Jay Kroll, General Formulations, warns to also watch for "any shrinking of the media or relaxing of tension on the graphic. This (seam) overlap will also make it easier for lining up panels or parts of a larger graphic."
When installing interior graphics and working inside of buildings and potentially shared space, there could be regulations to follow.
"As an example, indoor graphics may need to be GreenGuard certified, depending on the relevant local building codes," tells Andrew Smith, 3M Commercial Solutions Laboratory.
Construction teams can receive LEED credits for their building by using GreenGuard certified films in place of standard PVC film.
For more non-traditional graphics, such as floor graphics, there are other rules to consider that help to eliminate safety concerns.
"Another certification that comes to mind is UL 410, which governs the use of different materials for floor surfaces," adds Smith. "Because graphics placed on a walking surface may represent a trip or slipping hazard, 3M recommends installers use a UL 410-listed overlaminate."
Learn more about interior graphics in The Inside Job.