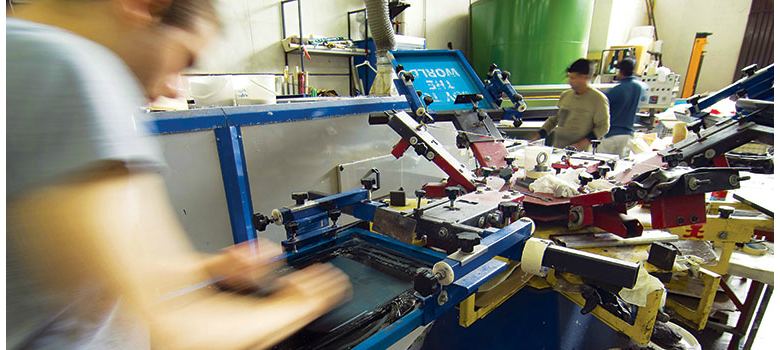 Manual
Manual screen printing is perfect for the beginner and intermediate printer. They start out with one-color/one-station table top presses and expand all the way to eight-color/eight-station floor presses. If you are only looking to do a short run, or have plenty of time to do a longer run, manual printing makes sense.
Sometimes a shop with an automatic will have a minimum quantity of shirts that customers cannot meet or do not need. That's where you come in! The manual screen-printing process is exactly as it sounds. Everything is done by hand and allows the operator to make adjustments, change color, and print a color twice to get solid coverage. Screen sizes are manageable, and the accompanying equipment you buy to run your manual press will last you for a long time (at least until you decide you want to upgrade).
Manual presses require more physical effort than an automatic. You're rotating the carousel and lifting and lowering the print heads, bending and kneeling, making adjustments and, of course, running the squeegee. Manual printers limit the number of printed shirts per day compared to automatic printers that print at higher volumes. Your production time will also be longer.
You may have to hire more employees to keep up with orders and keep the flow of your shop steady and consistent. Manual screen printing is a process that stands the test of time. It is easy to understand and most people can run with it. Depending on if you're the hobbyist or budding entrepreneur you may have a wide range of presses in your lifetime. It's all about what works for you and your shop.
Automatic
When someone feels that they are ready to expand into automated printing, it is typically because they have more orders than they can handle. Business is booming, they are making pretty good money, and they know that expanding could yield more orders at a faster turnaround making them even more money. Making the jump to automated screen printing isn't an easy decision, and deciding what automatic press is best for your shop should only be made after considering many factors.
While business growth and expansion is something every business owner should look forward to, buying an automatic press isn't a decision that should be taken lightly. Think about why you want to get an automatic press. The obvious answer is to yield a higher turnaround time on orders. But what is the real reason for YOU? Is it a promise of large orders? Do you have hundreds of small orders piling up?
While an automatic can whip out those large orders, if your price isn't right or your customer is in a mood, you could very well find yourself with a large piece of equipment that you're making monthly payments on and hardly using. Likewise, you could run your small orders on the auto, but you will need to keep a steady stream of orders coming in to keep the press running. We all know there are certain times of the year that isn't possible. Just like the weather has seasons, so does printing.
Before you decide to jump into automatic screen printing, you need to have built a solid foundation for your business. You need a steady stream of customers who give you hundreds (if not more) of shirt orders on a regular basis. Before you let the trade-show daydream take over, ensure you have the groundwork in place before buying.
The best advice we can give is to contact your distributor. The salesperson you get in contact with will help you break down costs and decide whether or not you're ready to jump into automatic printing. Discuss the different manufacturers, color capabilities, hidden costs including freight and setup fees, the cost of spare parts, training costs for your employees, and whether or not your current equipment can keep up. For example, will your current dryer keep up the pace or will you need a larger one with a longer belt?
Making a decision
If you decided to go automatic, you have a lot to look forward to. The obvious is higher production. You will also have consistent quality from print to print. Jobs that you never thought were possible are more easily accessible. And, your market will undoubtedly expand. This may take some getting used to because you will get to know all different types of customers. One day you may even decide to jump into contract printing just for the extra money.
There are a lot of good reasons for you to go with an automatic, but we want to urge caution. Take a hard look at the reasons you want to move up to an automatic. Can you afford it? Can you afford to upgrade other equipment if yours won't work with an auto in the shop? Does your production warrant the upgrade? If you think it's the right time, then we encourage you to go for it! Otherwise, keep rocking on the manual.