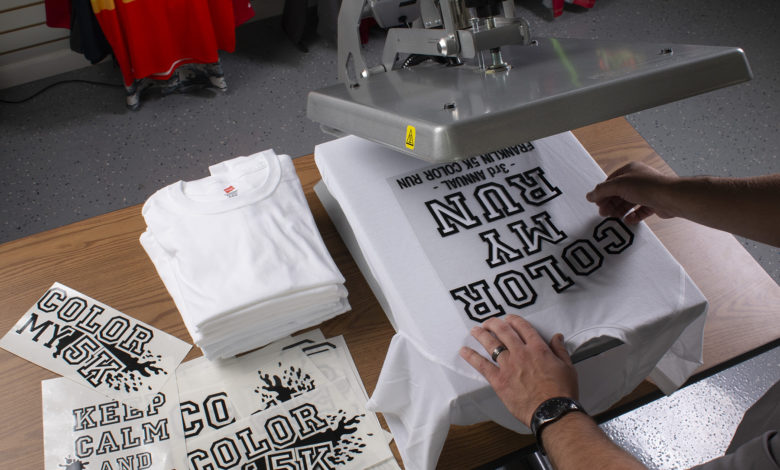 Creating high-quality apparel with a heat press allows an apparel decorator to accommodate smaller orders, quicker turns, and personalization. The custom gifting space is the perfect market for heat transfers, and the advent of laser-safe heat transfer materials has opened up a completely new revenue stream to business owners with laser cutting or engraving capabilities.
The category of heat transfers, sometimes called heat transfer vinyl, has been around for some time. Don't be fooled by the name, though, as most of these materials aren't vinyl at all and are comprised of polyurethane-based materials. This is great news to the laser engraver owner, as polyvinyl chloride has long been a concern for damaging your laser or causing harmful fumes created during the cutting process. However, polyurethane-based materials have also advanced in recent years to contain no lead or phthalates, which not only means easier laser cutting but also safety for children when they wear the produced products.
With this capability of decorating apparel in mind, let's look at what a laser owner may need to know to enter this profitable category.
How it works
Before we review all the looks you can create on a laser, let's talk about the process. Heat transfer films are sold in a variety of styles and are usually made in the same way. There are three layers of product manufactured into one.
When looking at the material, you will physically be able to split two layers. The backing layer is almost always a clear PET material. These PET materials are a part of the composition to hold the design together after it's been cut for positioning on your garment. When loading heat transfer film into your laser, this side of the material should be face down against the bed.
It is typically recommended that a honeycomb bed be used so that the laser can hold the thin material flat when processing. When considering how to kiss cut the material, you want to cut through the top two layers but not through the PET carrier. The two layers that you will cut through are the polyurethane film and the heat activated adhesive. These two layers are laminated or extruded together at the manufacturing process and should not be able to be separated by you, the decorator.
When programming your laser, conduct tests to ensure the laser is cutting through the film but not through the PET carrier. This is important so that when you create a graphic, let's say a name, you'll be able to remove the excess vinyl that you don't want to show up on your shirt when it's heat pressed. This process is called weeding—removing the unwanted film from the carrier after your design has been cut.
Each design created needs to be weeded. This isn't a big deal when doing basic shapes, but be careful of how complex you get in the traditional kiss cutting workflow.
Looks and finishes
When thinking about heat transfer films, there are a ton of options. Manufacturers create products with different adhesives for applying to different fabric types such as cotton, polyester, or even nylon. Additionally, some materials are made with special performance features like stretch and recovery.
While there is a lot of chemistry involved, if you are just getting started, source a basic material for cotton and polyester adhesion and you'll have 80% of the market covered. However, where we see a lot of opportunity and diversification is in the finish of the material itself.
Have you seen glitter in the auditorium at a dance recital? How about reflective on the vest of the crossing guard? Or maybe a rubber-like material on your favorite performance polo brand insignia? These are just a few of the finishes that you can now create with your laser engraver. There are many special effect styles, and the same workflow is followed. Let's review some of the choices that are available in the market for creating unique customized apparel:
Glitter is the top-selling special effect material in the market, and there are many versions. The most popular finish utilizes an actual glitter flake in its production. Available in a wide range of colors, glitter is best utilized to get the bling effect and to drive attention and visibility. While you should confirm that the glitter sourced is laser safe, the majority of glitters are made from polyester and are perfect for your machine.
Metallics and foils are another category that does particularly well in the apparel decoration space. Schools, teams, businesses, and consumers respond well to this effect as something that offers high shine without the gaudiness of glitter.
Additional finishes include flock, glow in the dark, chalkboard, silicone, transparent, and more. Be sure to ask for samples of various effects and double-check the instructions to ensure their durability on the items you create.
There is certainly a difference in quality as with anything, so making sure you have materials that are guaranteed to last is important to achieving repeat customers and positive reviews. A professional-quality heat press is also key to creating products that last.