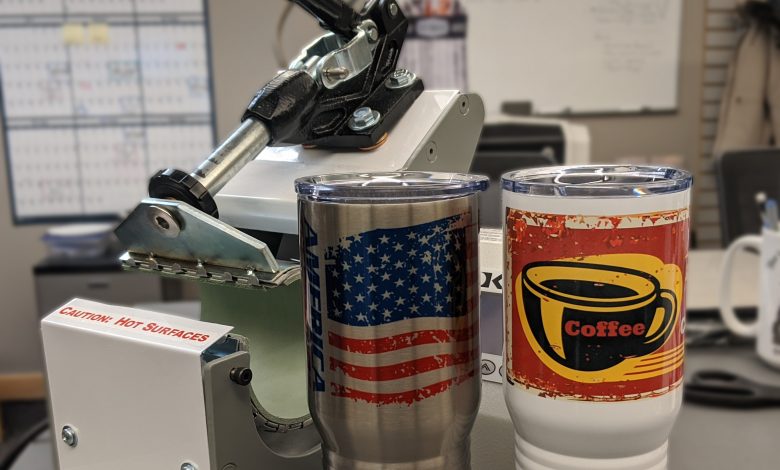 Whether you are just getting started in sublimation or you have been doing it for years, it can be challenging to decide what products you would like to offer your customers and clients. There are many products out there that can be sublimated, but some of them can take up too much time and money, which can make or break a customer's decision or deadline.
One product that is quick and easy to produce for any occasion is the JDS Industries 20-oz.Polar Camel Tall Tumblers that were designed specifically for mug presses. These tumblers are an amazing product to offer due to the fact that you can produce multiple tumblers within a small amount of time and not only offer a high-quality product but a cost-effective one too. JDS Industries offers these tumblers in stainless steel (STM651) and white (STM652).
There are a few important things to point out before sublimating Polar Camel Tumblers. First, the 20-oz.Tall Polar Camels have a poly coating on them designed for sublimation ink to bond onto the surface. Second, the tumblers are very similar to any other sublimation product where the transfer needs to be placed directly onto the tumbler and needs a constant temperature of 380 to 400 degrees Fahrenheit to work properly.
While using a mug press, there are a few things to keep in mind. Different brands of mug presses can have different settings such as dwell time and temperature. The settings that I provide are for the GKDK3 mug press from Geo Knight. You also want to make sure that your artwork will fit the dimensions of the mug press. Since it has a gap for mug handles to stick out, you do not have the ability to do a full wrap around the Polar Camels.
Before getting started, make sure you have all of the appropriate supplies for this product. Besides your tumbler and mug press, the items you want to have are a sublimation transfer with a design/image on it, heat tape, scissors, and scratch paper or butcher paper. Once you have the material, you are ready to get started.
The first step you want to take is to print and cut out your artwork. We recommend creating your artwork at 9 1/4 inches wide by 3 2/4 inches tall, or you can download the product template on our website at jdsindustries.com. Leave some paper on each end of your transfer so your tape does not cover your artwork. (Figure 1)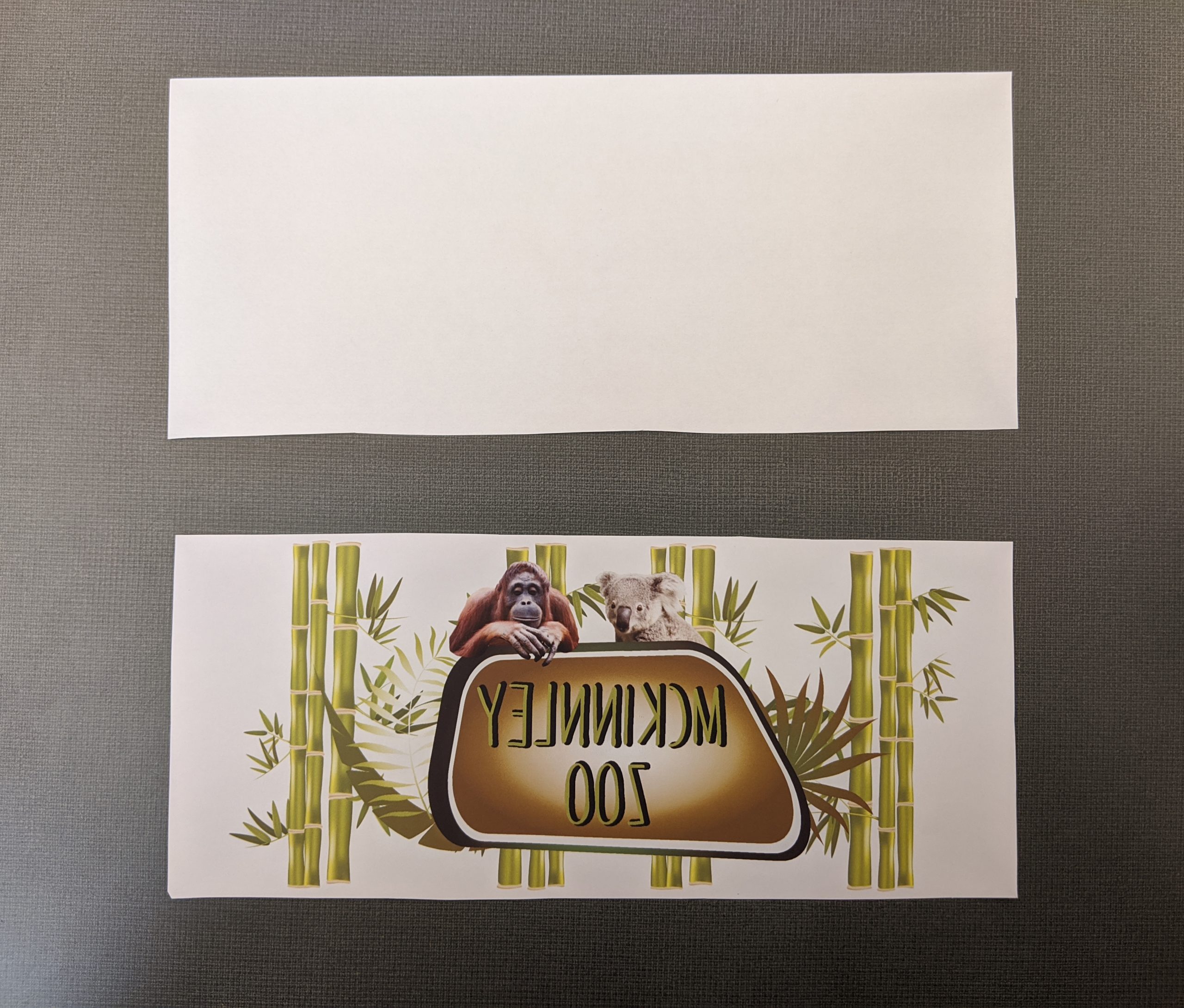 Figure 1
Once that is done, place the transfer onto the Polar Camel with the heat tape. Make sure that this is lined up to where the two ends of transfer paper meet will be where the gap is on the mug press. (Figure 2) Next, place a piece of scratch/butcher paper around the transfer while using the heat tape to protect the mug press from any possible ink to bleed off of the transfer.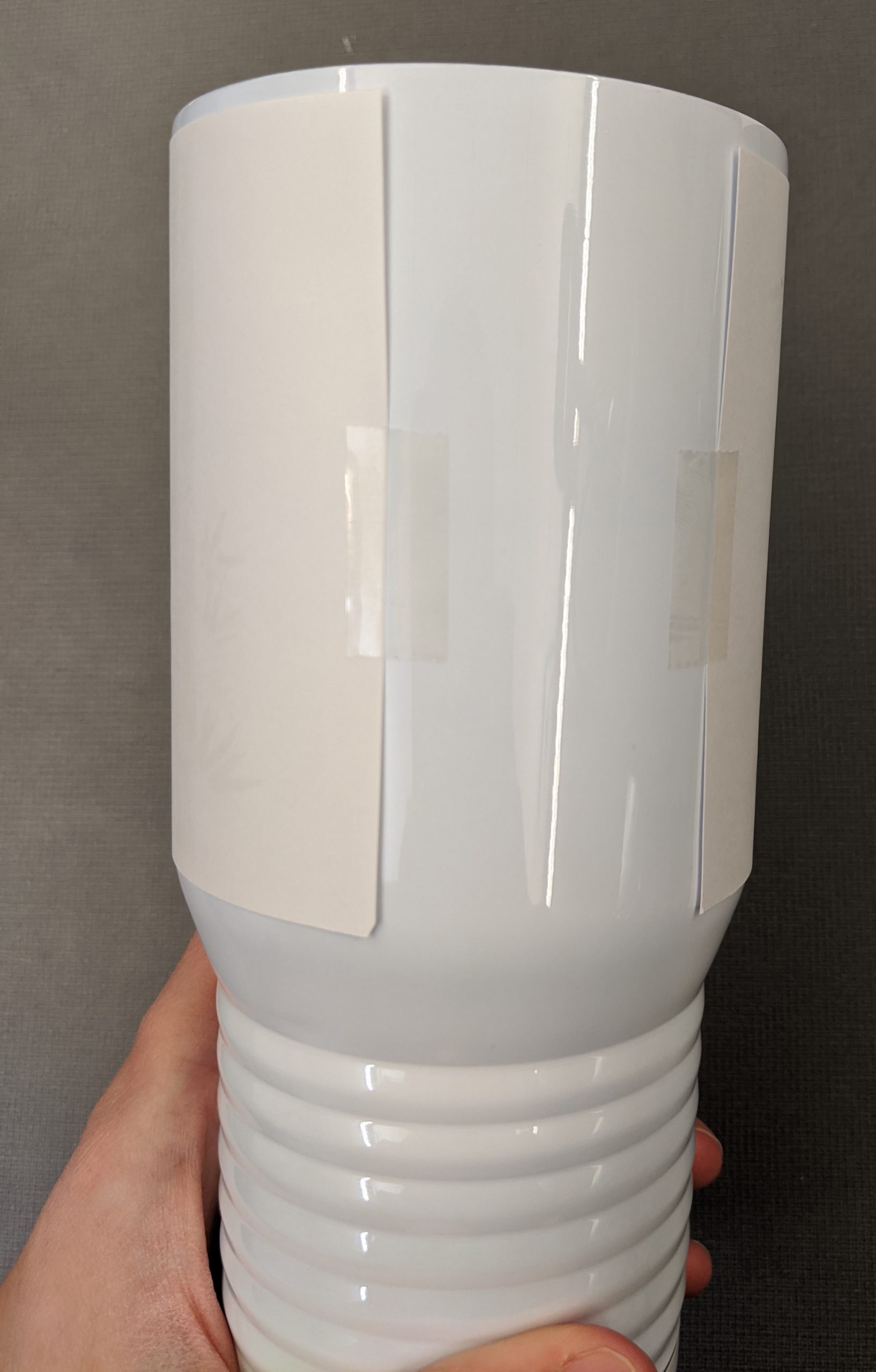 Figure 2
Next, make sure your mug press is set to the appropriate settings. We recommend doing these at 380 degrees Fahrenheit for 1:15 with a light to medium pressure. (Figure 3) As previously stated, some of these settings may differ depending on what type of mug press you have. Make sure to take off the lid for your tumblers before placing into the mug press as they are made of plastic and will melt under high temperatures.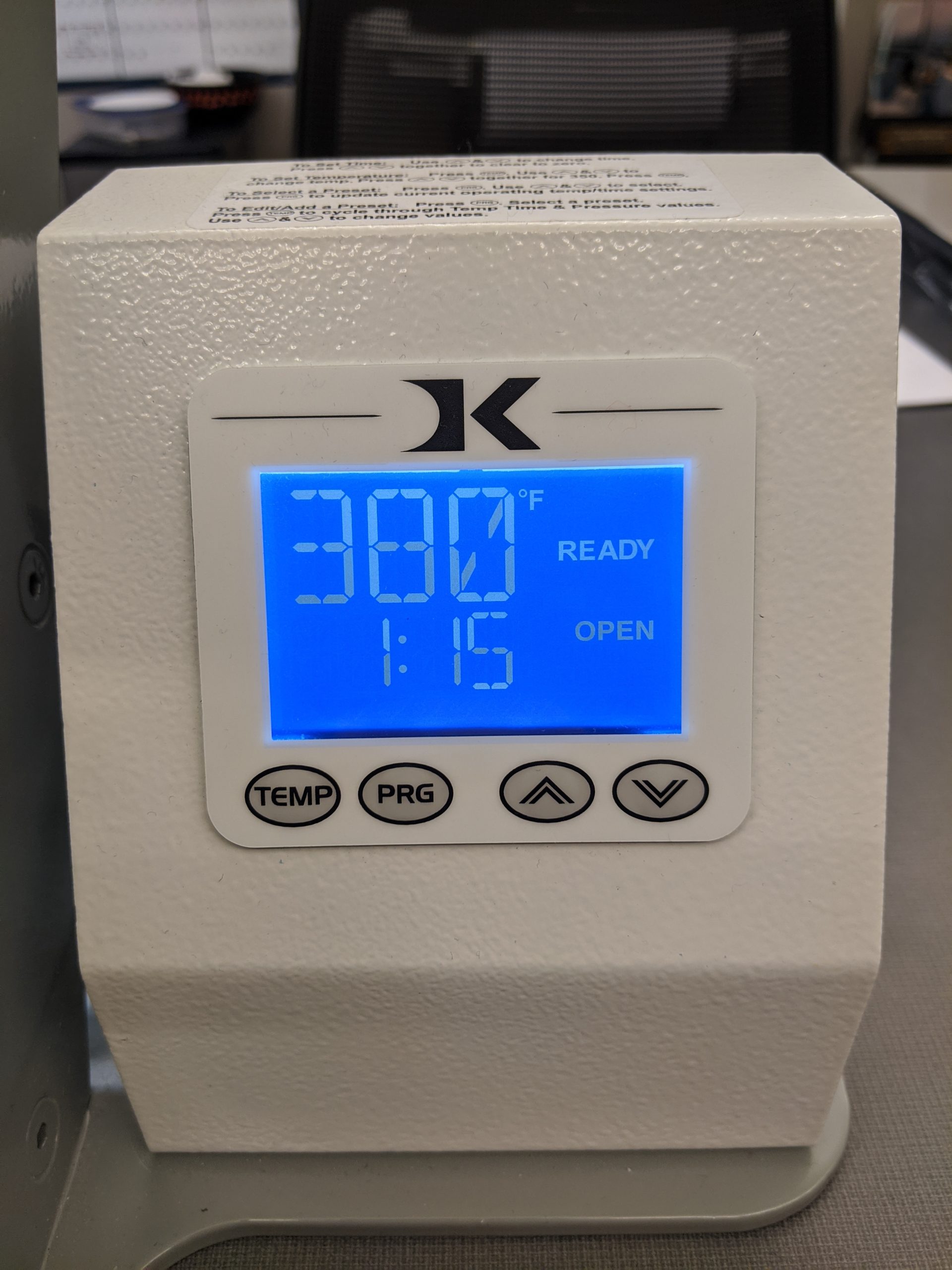 Figure 3
When the mug press is ready, center your Polar Camel in the mug press so that the artwork is in contact with the green pad, then pull the handle down to close the mug press. (Figure 4)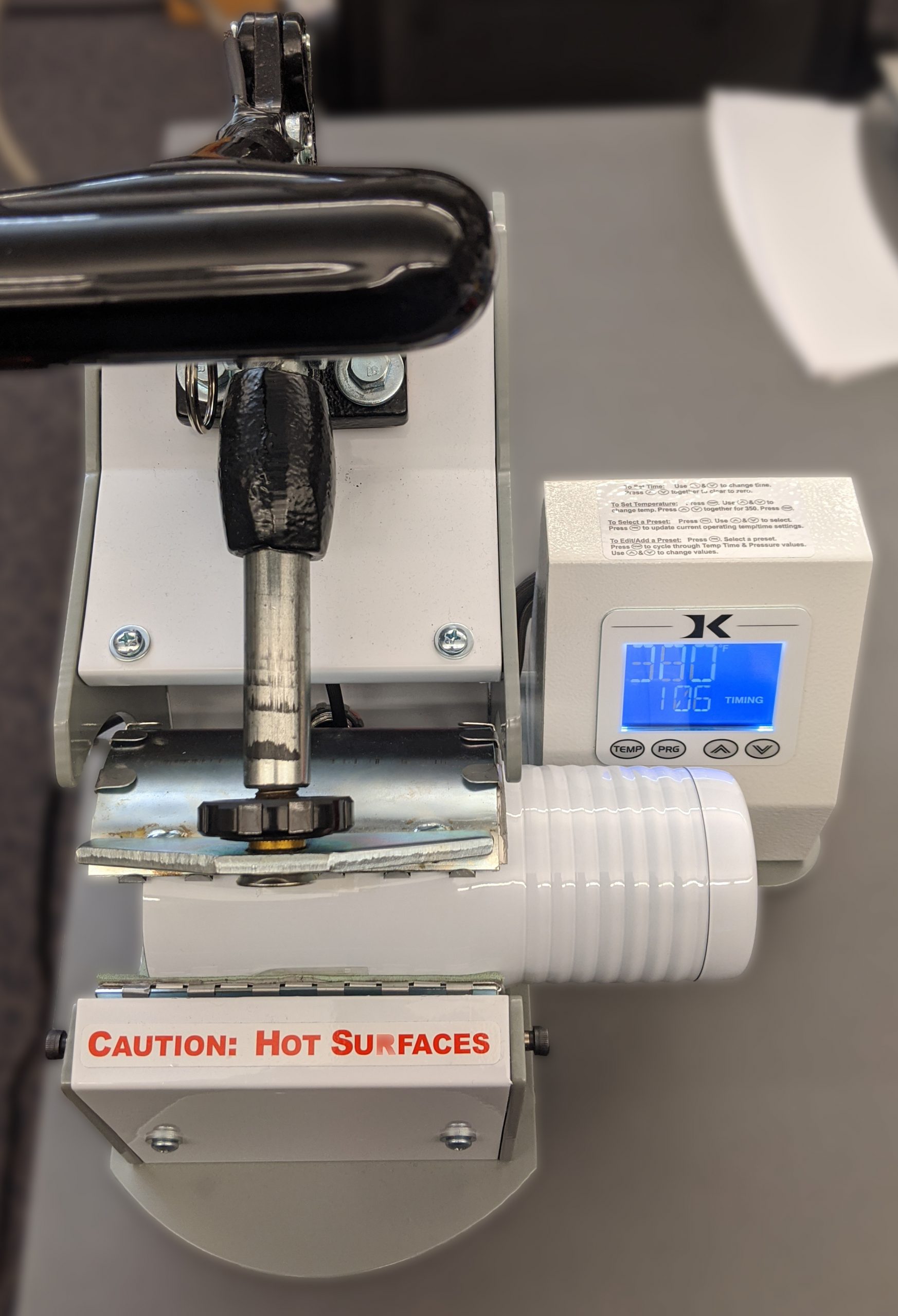 Figure 4
When done, remove the Polar Camel from the press. If needed, use a heat-resistant glove to remove the transfer and paper from the Polar Camel as it will be very hot. Just like that, your Polar Camel is finished! These are high-quality products that offer vibrant colors and a quick turnaround time for your production and your customers. (Figure 5)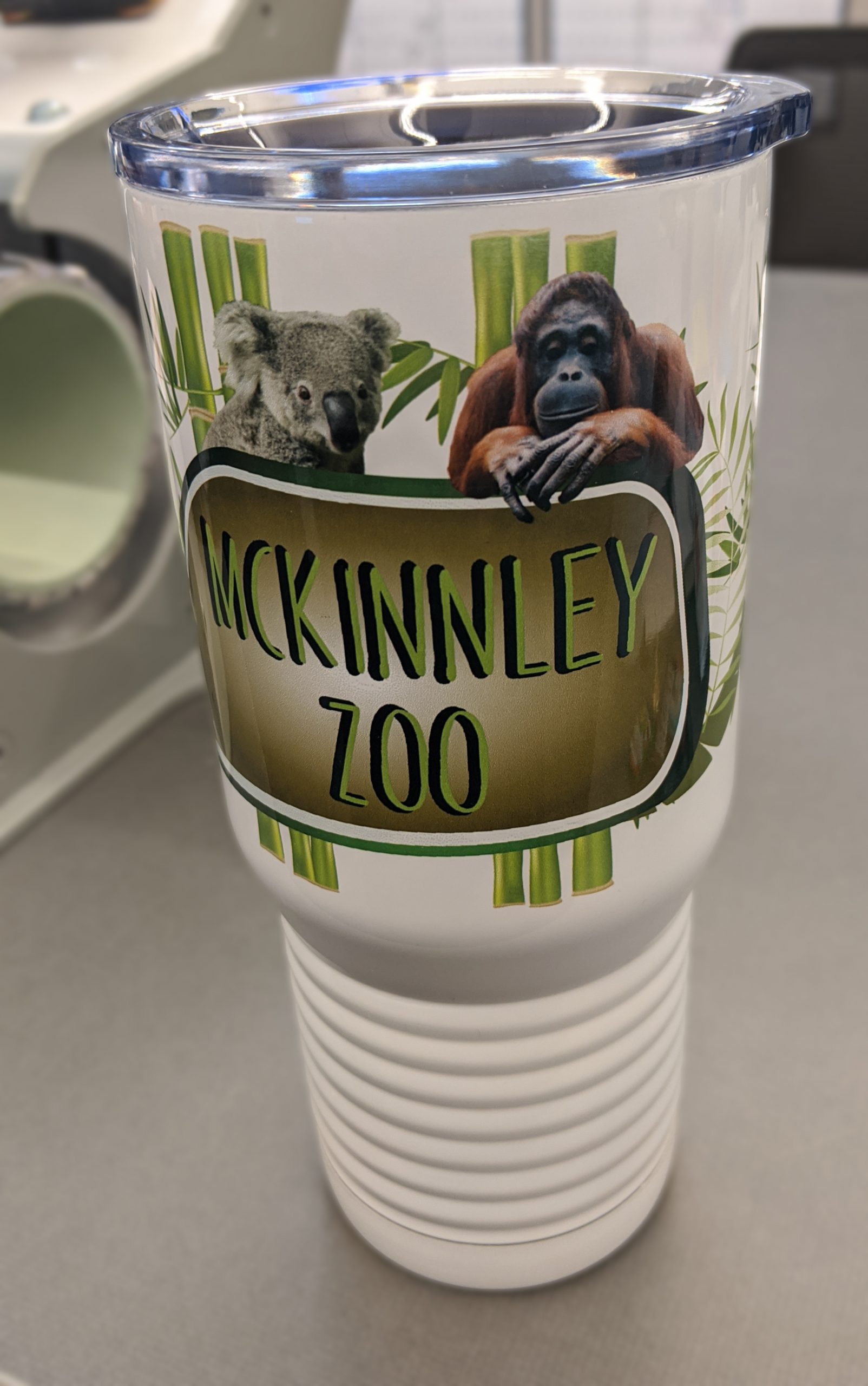 Figure 5