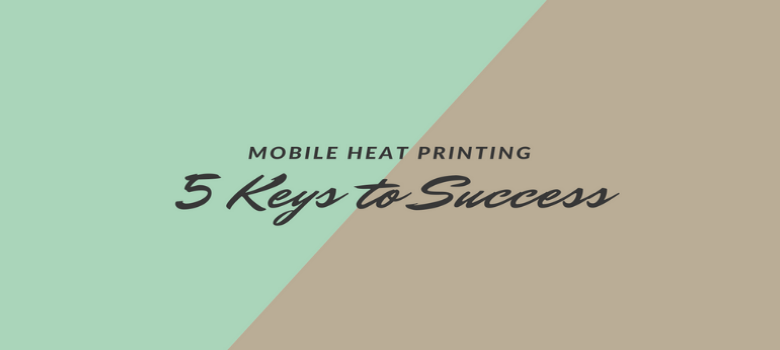 It's easy to get swept up in the excitement of offering on-site creations. After all, the possibilities are endless with heat printing! First, take a deep breath. Then, congratulate yourself for taking on such an awesome opportunity and approach mobile customization with smart thinking and strategy.
I used to coordinate on-site screen-printing projects for a print shop, and in my experience, the biggest thing to keep in mind when taking your printing business mobile is that, unfortunately, most folks can't make up their minds when presented with too many options. There's no discrimination, either. When you offer too many custom variables on-site (garment style, garment color, number of application locations, etc.), it can be overwhelming, for you and your prospects. You'll get questions you never imagined yourself answering. You'll get special requests that you know you can't accommodate.
My number one piece of advice: Keep things simple.
Here are some ways you can minimize frustration and discover success when taking your business on the road:
Create your designs in advance, and keep your artwork selection to a manageable minimum. If you are creating apparel on site for a festival or event, limit your artwork selection to a handful of designs. It's not a bad idea to keep them one-color to start. This enables you to create pressed garments quickly, allowing your customers to stay engaged and prevent long lines from forming in front of your booth/set-up. There's nothing worse than offering too many options and causing a customer traffic jam at your own station while trying to field questions about which garments shrink and which don't.
Choose garment and accessory styles that compliment your designs, and keep those to a manageable minimum as well. It may be tempting to offer every style of substrate you carry when going mobile. I mean, some folks may want tanks! Some may want sweatshirts! Some may want youth shirts for their kids! Great on you for keeping every customer demographic in mind, but be warned: not every customer will visit your booth at an event, and unused garments end up going home with you. Choose popular garment styles and colors that you know you'll be able to use or sell later. Then provide sizes that primarily fall between the adult small through extra-large range. If you do decide to offer youth and adult sizes, make sure to upcharge for the differences in garment style.
Provide pressed examples of final products to inspire your customers. This will help keep things simple for you, too. Most people would prefer to point at a finished T-shirt or tote bag example and say, "Give me one of those!" Create color combinations that have mass appeal, then display those near your booth at events to help keep the line moving.
Make sure you have multiple payment options for those that don't carry cash. Not everyone keeps a stack of old presidents in their back pocket anymore. Utilize mobile payment processors like Square and Paypal to ensure everyone has the opportunity to purchase your unique offerings.
Kindly ask enthusiastic customers to share pictures of their newly-purchased wares/accessories on social media and tag your business in them. This allows your customers to advertise your business in real time, which is perfect for public events and high-traffic festivals. Not everyone may know you are selling your items at an event. Let your recent advocates help you do the selling and drive more prospects to your booth! Creating specific hashtags and requesting customers use them is another great way to gain visibility and insight of how your products impact a particular event. Be sure to reshare your favorite customer-supplied images on your social media platforms and give proper attribution!