Selecting a proper heat press can be daunting. There are many "trees in the forest:" presses that open vertically (clamshell), horizontally (swing-away), presses that print on hats (cap press), mugs (mug presses and ovens), low-cost/analog presses, more expensive/digital presses, desktop, and large-format presses. Where should you begin? A good rule of thumb is to select a press with your ultimate goal in mind.
For example, are you:
just getting your feet wet on a few small heat press projects and looking for a good all-around, low budget but quality press?
have a specific, larger project in mind that requires a good number of shirts and might be the start of a similar business in the future?
an existing production unit adding another press to your "battery" and need something that can withstand daily and continuous textile printing production?
not so much interested in shirts (although you may not be ruling this out), but more into non-textile substrates, such as metal plates, awards, coasters, or other advertising-specialty substrates?
inquiring about the equipment needed to print on drinkware products — whether metal, glass, or ceramic, straight or slanted, and small or tall?
looking to create all-over prints on long-sleeved textile pieces or on larger non-textile substrates such as aluminum plates or wooden tabletops?
Each of these projects requires a different approach and piece of equipment. But before delving into the distinction between various types of presses, let's first review the minimum requirements of a quality heat press.
A quality heat press
A quality heat press must provide accurate reproducible heat, consistent pressure, and reliable, durable performance. These are the minimum requirements, but let's break this down a little further.
Heat delivery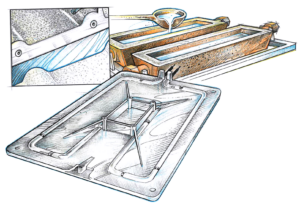 A heat press should be able to provide up to 400 F on a consistent and accurate basis.
Even more important than accurate temperature is the availability of evenly divided heat. This requires a heat platen without "cold spots" or locations that are significantly cooler. The best heat presses will have the heating rod embedded into (rather than attached to) the surface of the heat casting. Embedding a heating rod is a manufacturing process that requires a foundry whereby aluminum is poured into a cast that contains the heating rod. The heating element is permanently and firmly embedded and can provide complete contact over the entire platen surface within 5 F.
Pressure
A heat press should also have adjustable pressure controls and be able to deliver up to 80 PSI/equivalent line pressure force — in case the press is used for projects such as plastisol prints, hot or cold peel transfers, foils, flock, or rhinestone transfers, etc.
Manual presses have no air pressure gauge but should have a lever or knob to allow for increasing or decreasing the pressure. A digital readout (e.g., 1-9) on manual presses is helpful to indicate the level of pressure applied.
As with heat, even more important than the exact amount of pressure is even pressure. Uneven pressure has a similar effect to uneven temperature — showing some areas of the product insufficiently sublimated. The secret of even pressure lies in the proper construction of the press's mechanism, with both platens evenly closing over the entire surface. It also lies in the proper finishing of the heat casting — being perfectly flat and even at high temperatures.
And finally, there is also the importance of the lower pad. Low-quality pads, torn silicone, or weaknesses on or below its surface immediately results in lower or lost pressure, with its deficient effect on the printed product.
Time considerations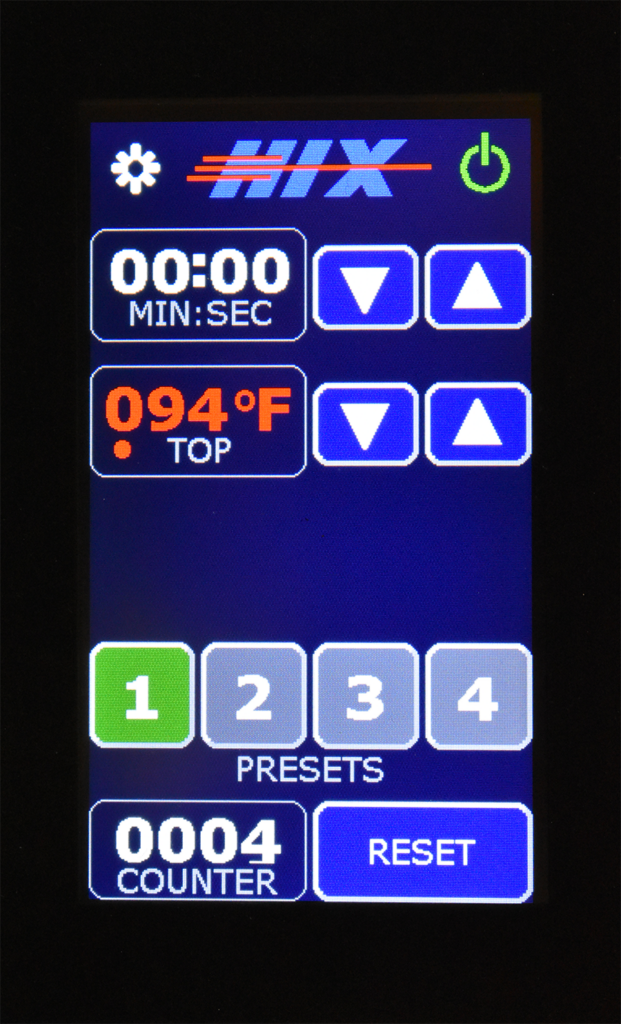 Most presses have built-in timers that alert the user when the required dwell time has been reached. Some presses, called air-automatic, semi-automatic, or auto-release presses, have mechanical or magnetic release mechanisms that will automatically open the press when the set dwell time has elapsed. This is convenient for an operator doing multiple jobs at once.
Analog presses are mostly scaled-down versions of their higher-end cousins. To remain within the budget of a start-up shop, these presses may not have an integrated timer, temperature, or pressure read-out, but may have included stick-on timers.
Although in principle, there may not be a correlation between the quality of the press and the presence or absence of integrated and automatic controls, other than convenience. Often these analog presses are also built for smaller production environments and constructed accordingly, with a reduced life expectancy.
Size considerations
Heat castings must be at least 1″ larger on all four sides than the desired image or transfer surface of the substrate. Good quality presses with high-quality pads can allow for an even narrower ½" distance from the edge of the pad. Attempting to press any closer to the corner of the pad results in a quick drop of pressure.
So, if your intention is to print on 11″ X 14″ ChromaLuxe plates and 13″ X 13″ polyester bags, a good quality 15″ X 15″ press will do the job. For any larger projects, better pick a larger press such as 16″ X 20″ size (which covers most standard-size transfer available on the market), a 20″ X 25″ size (which covers oversize transfers as well as larger non-textile substrates) or even a large-format size 44″ X 64″ press (e.g., to cover a 40″ X 60″ ChromaLuxe aluminum plate).
Heat presses cannot accommodate substrates or transfers which are larger than the press's transfer surface. Printing any substrate in two takes simply is not an option. This makes the size a determining factor in the type of projects you can accomplish.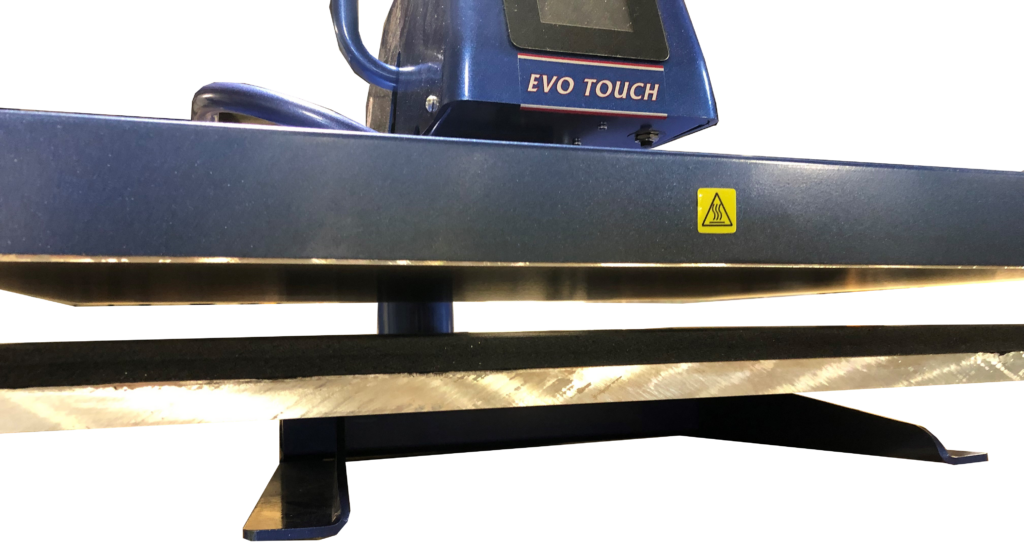 Another size consideration is the maximum platen clearance, as measured by the distance between the upper and lower platen with the heat press in the closed position. A heat press can only handle substrates thinner than this maximum clearance between platens.
Heat recovery time
A further consideration for those interested in mass production is the heat recovery time — defined as the ability and speed of a press to return to its set temperature at the end of the cycle. This recovery time is directly related to the type and quality of the press's electrical components. Higher wattage heaters have a quicker heat recovery (e.g., a 2,000-watt heat casting will recover its heat a little quicker than that same press with a 1,750-watt heater). Similarly, an 8,000-watt sublimation oven, once the oven door has closed, will recover its temperature quicker than a 5,000-watt oven.
Cantilever construction
A final consideration should be the ease with which a shirt or other textile product can be placed on the lower platen, exposing only the print-side to the heat.
To safely sublimate on shirts, hoodies, jackets, bags, or other two-sided textile products, it is important to only expose the printed side to heat and pressure. Laying an entire garment on top of the lower platen risks the sublimation inks migrating, not just to the top of the substrate, but also to the inside and even the backside.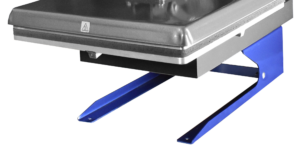 Most presses will have insufficient clearance below the press's base to pull any garment or bag over and around this base. As a remedy for this lack of clearance, the operator can also insert a Teflon sheet or cushion — or even some brown craft paper — between the fabric layers. However, this does add additional preparation time.
A press with a cantilever construction allows full clearance below the machine's base, a safe and clean space for the back of the garment, away from heat, pressure, and errant sublimation ink gasses.