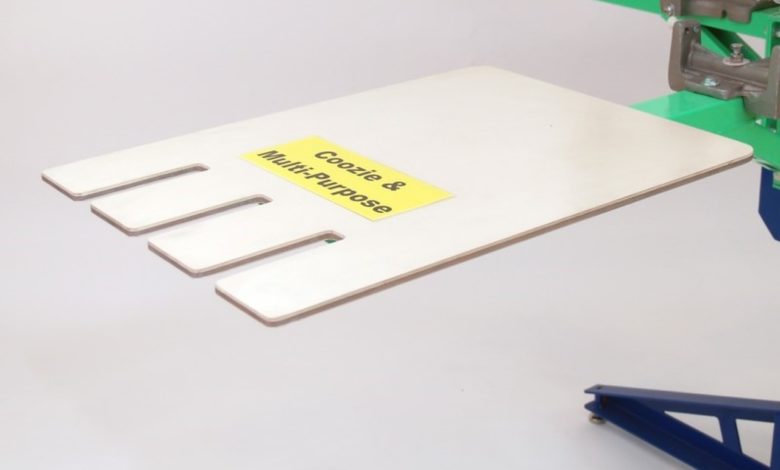 Offering decorated koozies is a simple way to expand your offerings. Koozies provide a great additional company branding opportunity as well. Koozies are inexpensive to purchase and come in a variety of styles. Because of the low price tag, they make a great freebie without breaking the bank.
With a few decorating tips, you can add custom can and bottle koozies to your product line as a promotional item or value-add purchase for your clients. The good news about screen printing koozies is that it is incredibly straightforward. With just a few tips and adjustments, you can easily print koozies with custom branding or logos.
Art and application
We usually keep the art simple—the printing area on a koozie is relatively small. Many koozies will not absorb the ink, and the image will sit on the surface. By keeping the design simple and minimizing fine details, the final result will be a clean print. Typically, we try to limit the colors for the same reason, which also reduces flashes that may compromise the material.
We typically choose polyester or low cure inks for koozie printing, depending on the material. We will also add a bit of puff additive to the ink as well for opacity and flash minimization. We are cautious with curing because of the synthetic fabrics, which are prone to dye migration and bleed during flashing and curing. We use a bleed blocker on occasion when we have a material that is particularly difficult such as a sublimated koozie.
Mesh selection is typically in the 110–180 range depending on the color. More importantly than that for the koozie screen is tension. Higher tension allows us to minimize the off-contact distance and squeegee pressure to keep the ink on the surface of a typically very soft and spongy substrate. Higher tension makes all the difference in clarity and opacity of the final print.
We can print koozies on a sleeve or pocket platen, but we find specialty platens made just for koozies work best, particularly for multiples up. We use our manual and automatic screen-print machines for koozies depending on run size. We have also seen them printed on the little tag autos as well as converted flatbed presses.
When screen printing directly on koozies, we try to stay with simple designs; however, screen-printed heat transfers can allow more colors and a bit more detail. Heat printing koozies requires a special platen that holds several koozies in the heat press at a time. Keep in mind, dye migration and bleed can still be challenging to manage in many instances here, depending on the content.
Full-color tonal images are possible, but for this request, we rely on sublimated transfers on white poly koozies. There are also some options for direct-to-garment applications that work for us as well.
Koozies are a functional promotional item for consumers, and they are a great way to raise brand awareness and give away at events. They are inexpensive and reasonably easy to decorate, especially if you keep it simple.