When you think about ADA interior signage, you might imagine feeling the raised copy and Braille with your fingertips, or possibly the classic blue and white wheelchair pictogram comes to mind. The ADA (Americans with Disabilities Act) is a civil rights law that prohibits discrimination against individuals with disabilities in all areas of public life. Due to the law, all public places must have highly visible and tactile interior signage for the visually impaired. At some point, every American has relied on the stick figure pictogram to enter the restroom with confidence.
The ADA written standards for interior signage contain requirements that must be met before the building can open. The most critical requirements to note include raised characters, character style, Braille, pictograms, finish, contrast, and installation location. However, there is no requirement that the sign must be boring or lack enthusiasm for the interior space it inhabits.
What are some ways to enhance your ADA interior signage and still be compliant?
Color selection and use of digital graphics
Merging of materials and finishes
Combining shapes and layers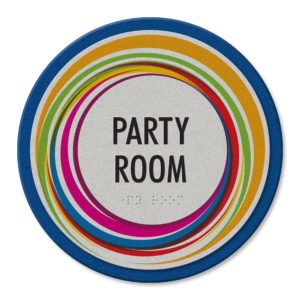 Custom color choice and incorporating digital graphics are two great ways to bring your interior signage to life. Although the classic blue and white combination resembles the everyday accessible sign, there is no restriction on color selection. As long as your sign design meets finish and contrast requirements, integrating custom colors to complement your interior space or the user's branding guidelines is essential for an excellent signage program.
Introducing digital graphics as full- or spot-color can give extra dimension, replicate a different material, or give optical illusions of shadows and depth. High-resolution digital printing can be so deceptive that, at a glance, it can mimic real natural materials. Sometimes natural materials need to be purchased in full sheet, large volume, or can be discontinued over time. Digital printing is a great way to incorporate these faux materials and control their appearance in every production run. The digital replica is a great alternative to avoid challenges with follow-up orders.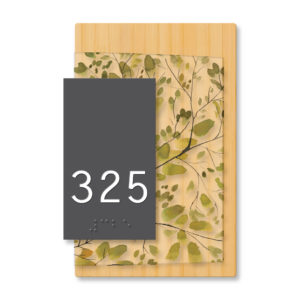 An assortment of materials and finishes can add visual interest and engage the users. Materials found in nature, such as metal, wood, and glass, can create a feeling of eco-friendly awareness. Frosted acrylic can create a calm feeling, while glossy acrylic mimics the building's sleek modern glass surroundings. Metal or painted accent pieces can provide a visual barrier to separate elements of the sign unit. Once the finish and contrast requirements are met for the ADA component of the sign unit, harmonizing finishes on backers and accent features grab and keep the users' interest.
Combining shapes and layers to make an interesting sign unit breaks away from the standard blue and white accessible sign. If you have met the ADA requirements for tactile character size, Braille, and pictogram spacing, you can design your sign unit in any shape desired. To customize the sign for its space, add layers of varying shapes to duplicate the building's angles and profiles.
Sign companies and designers can get overwhelmed by the ADA code requirements for signage. The ADA written standards can be tricky to understand. It's stressful to take on the pressure and liability that comes with designing a custom sign program that needs to pass inspection, and it is easy to lose confidence. Do not get discouraged! Just remember that ADA compliant signage does not have to be boring! The unlimited number of creative options available allows you to bring the elements together to form a masterpiece.