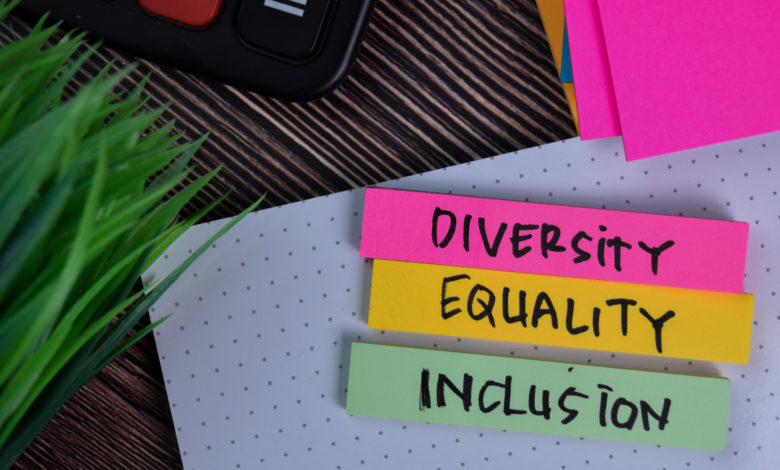 Many companies around the country are now taking a closer look at their marketing and internal operations to make sure their employees and customers feel appreciated, represented, and are treated fairly.
Diversity, equity, and inclusivity (or DEI) is an overarching term that describes the efforts to make everyone feel heard, seen, and included within companies, organizations, and other communities. DEI efforts could include giving employees more flex time, access to more leave, or additional benefits based on their needs and life circumstances. But, there's a lot more that goes into truly implementing DEI into your distributorship or printing shop and your conversations with customers than just offering more benefits.
What's DEI?
Let's start by breaking down the terms that make up the bulk of DEI:
Diversity: This is the concept that no two people in any organization are the same. Everyone has differences, whether they involve race, gender, religion, sexual orientation, or ethnicity. Diversity also encompasses other differences such as ability, age, language, nationality, political affiliation, and socioeconomic status. It's important to embrace diversity and those differences that make each of us who we truly are instead of marginalizing those because of their differences.
Equity: This is when you promote a general attitude of fairness in your business or organization. Equity can take the form of maintaining impartiality when it comes to distributing resources or handling procedures.
Inclusion: The final prong of DEI is about ensuring that everyone feels welcome and has a "seat at the table" when it comes to decisions in the day-to-day workings of your organization. You can only meet these goals when everyone is on an equal footing, including those who may have been marginalized or excluded in the past.
Perhaps Verna Myers, a well-known supporter of DEI, put it best when she said, "Diversity is being invited to the party. Inclusion is being asked to dance."
Why Is DEI important to my business?
Now that we've defined diversity, equality, and inclusivity, let's explore all the reasons you should start making changes now if you haven't already. Here's a look at some of what the public says about these issues:
These stats show what we already know: Everyone deserves a seat at the table. If you're not ensuring this is your company culture, you'll lag behind your competitors. In addition, companies that look to work with DEI-minded businesses will be more likely to contract with you if you're actively focused on these efforts internally.
6 steps to bring DEI into your company culture
Assess where you are today
Anytime you're beginning a sea change in your organization, you want to look at where you are so you know how to move forward. To assess where your distributorship or print shop is, start by recognizing your brand's role in DEI matters. Ask yourself how and where it would be best for you to raise your voice and assert a position. Then begin to have these conversations with your shareholders, including other businesses you work with.
Also, consider your target demographic and your current marketing strategy. If your customers are from a diverse background that you aren't speaking to adequately in your advertising, on your website, social posts, or in your conversations, then you need to delve more deeply into how to do so. One key way is to survey your clients. Or, as an alternative, you could hold an online or in-person focus group, to learn more about how they would like to be represented or spoken to.
By increasing your cultural intelligence, you signal to your customers that they matter to you.
Assemble your DEI team
Once you've assessed your position and your marketing, it's time to put your DEI team together. Start by appointing a DEI ambassador. This ambassador is essentially someone (or even a selected group of people) who can mediate between managers and employees, and between employees.
For this position, you need someone who can take the initiatives set forth in your DEI meetings and help put them into practice. This person will identify areas that need work. By promoting the principles discussed in meetings throughout your workplace, they ensure the info is understood and implemented.
You should also take a good, hard look at your company's makeup. Is your employee pool diverse? Are you practicing inclusion when it comes to the hiring process? If not, then you may need to make some changes in recruiting and hiring.
Add variety to your marketing, starting with your team
Diversify your marketing team as much as possible. Actively seek those people who can add to the conversation and advocate for inclusivity based on what they know. Getting opinions and ideas from workers of different ethnicities, ages, and backgrounds is invaluable to a business, because you'll be able to get feedback that draws from a wider range of experiences. This is a big part of the secret sauce of some of the most successful businesses around today.
When it comes to promoting your products, also try to include people of different genders, sizes and body types, as this will help you to speak to multiple demographics for decorated apparel and merchandise. Consider how inclusivity may sound in your workplace by asking your employees what that means to them: how it sounds and looks, with certain graphics or depictions of people. Determine what content you want online for those outside your company to know and understand the importance you're placing on DEI.
Think DEI in the products your offer
Now it's time to look at your apparel and accessories that you showcase in your online shop, in your sales presentations and on your social media. It's time to include unisex, men's and women's styles in a variety of colors, fits, silhouettes and length options. Your goal should be to offer options to outfit every demographic and body type, so they can look great and feel great. Offering apparel options that give everyone a fit that's comfortable, functional and flattering, shows your brand is in tune with the times.
Weave DEI throughout your business, brand, and marketing
Now, it's time to bring all these threads together by promoting diversity in your business, brand, and marketing. Don't make "diversity" just a trendy watchword that you hope to use to score more business. Practice what you preach by promoting diversity in all aspects of your work, and you'll see it pay dividends.
Realize DEI is an ongoing process
Change doesn't happen overnight. Realize this isn't about one moment but instead about a movement that will gradually bring about the change needed. With this in mind, you should regularly review your shop's DEI stance to see where you might need to make some adjustments.
Bringing more diversity, equity, and inclusion into your everyday lives is a key effort for a whole new generation of workers and activists. By embracing DEI, you'll be able to attract a more diverse team to your company and be able to connect your brand with customers in a more personal and relatable way that's sure to help build up your brand loyalty.