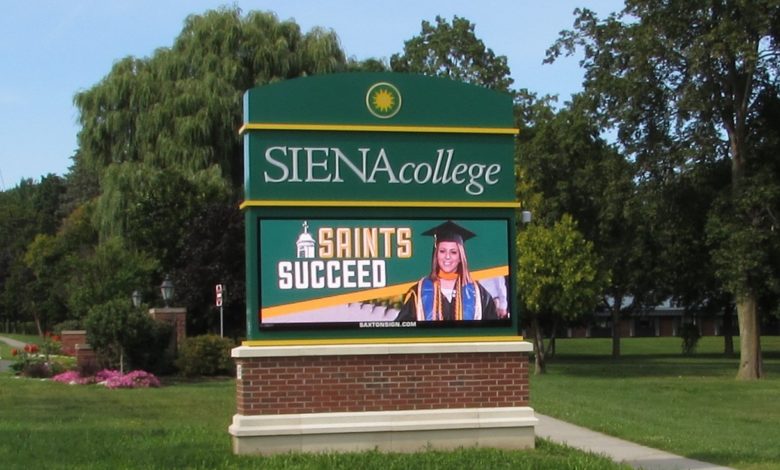 University and college administrators exchange a lot of information with students, professors, and staff. From exam results to public safety messages, schools of higher education employ different methods for communication, including in-person, email, social media, and text alerts.
A recent study of student digital communication preferences showed that while students prefer email for academic information, they rely on instant communication methods like texting or messaging for non-academic topics.
It's not surprising that another method of instant communication is finding a home on college campuses: digital signage. Digital message centers communicate in a familiar, dynamic, and digital format, allowing administrators to share information quickly in a way that appeals to students. With that, campuses are employing digital signage in several ways.
To create a welcoming environment
Landmark entrance signs set the tone for what visitors will experience on campus, and help the school keep the surrounding community engaged.
Siena College, a private, Franciscan liberal arts college with just over 3,000 students in Loudonville, New York, installed a digital entranceway sign to help the college more aggressively broadcast messages about its distinctive value. Competing against larger public schools and regional private colleges, Siena College needed a modern solution that would convey important, branded information to the campus and community. They installed a double-faced sign featuring back-to-back 10mm digital message boards.
"As a small school with a beautiful campus, we needed to be thoughtful about how to create a dramatic and attractive entranceway that ties into the aesthetic of the campus, while also providing us an opportunity to extend the brand," says Jason Rich, director of marketing and communications at Siena College.
The college uses the message centers to convey what makes Siena different from other area colleges, including facts, images, campus achievements, and events. The ability to change messages easily has helped the college clean up the clutter from directional and event signage that would spring up along busy U.S. Route 9 where the campus is located.
To engage the fan base and increase revenue
Colleges and universities rely on sports, the arts, and cultural experiences to engage their supporters and drive revenue. Digital signage is able to advertise upcoming events and post messages to rev up the fan base.
California State University, Fullerton, is located along the busy State Route 57 Freeway and serves 41,000 students. The university, home to the popular Titan's baseball team, recently upgraded its digital display after the university revised its logo. The new double-sided, full-color display measures 20′ X 30′ and is now readable by traffic in both directions.
The new sign is an important channel for advertising messages about campus and sporting events, and highlighting other features of the campus, including programming at the famous Fullerton Arboretum, a 26-acre botanical garden open to students and the public.
"Our new sign's graphic display looks awesome, and it has significantly improved Cal State Fullerton's ability to advertise campus events to thousands of people every day," explains John Spencer, Capital Programs & Facilities Management, at Cal State Fullerton.
To boost enrollment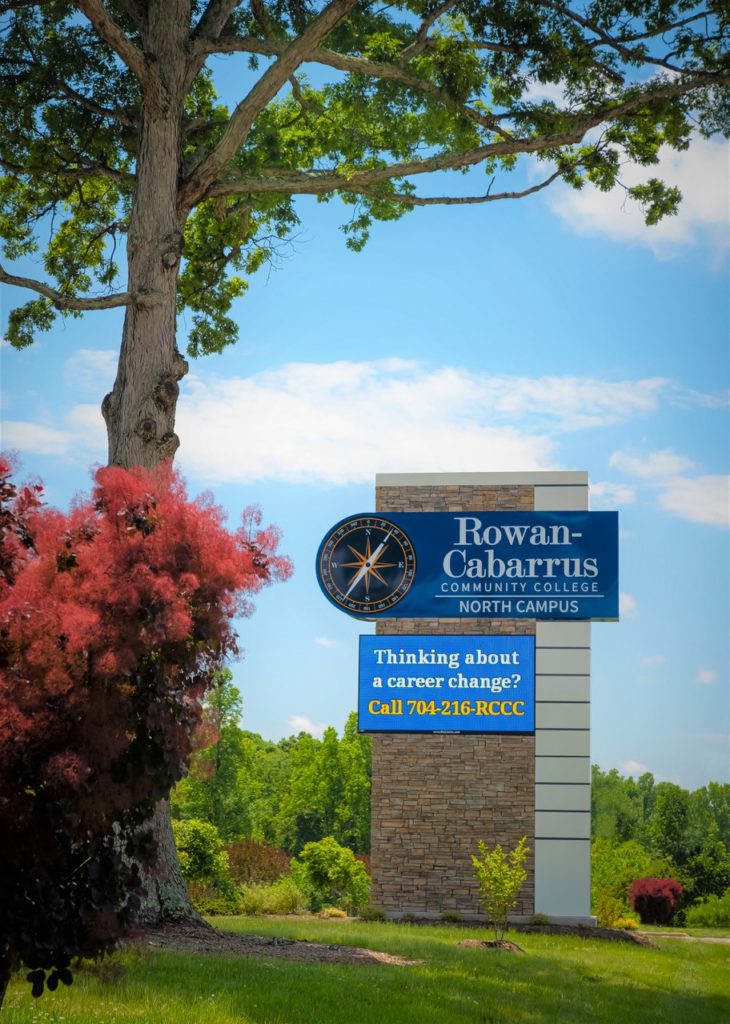 Colleges are offering a growing number of education choices, including continuing education and certificate programs. Digital signs help colleges get the word out about new and existing programs.
Rowan–Cabarrus Community College, a public community college serving the citizens of Rowan and Cabarrus counties in Concord, Kannapolis, and Salisbury, North Carolina, offers more than 2,000 courses and serves a yearly enrollment of more than 22,000 students on five campuses.
For some time, administrators wanted to replace the monument sign located at the college's large north campus, which is highly visible from Interstate 85. The sign was falling apart, had been wrapped in banners, and wasn't able to convey timely information.
The new sign includes a large, double-sided, digital display, which gives the college more flexibility in the messages it displays. The college posts enrollment messages to the sign and highlights the system's many degree programs. Administrators love that the new sign eclipses all other signs in this busy area and grabs the attention of passing motorists.
To captivate and guide pedestrians
Digital signs also can be used indoors to aid in wayfinding and to captivate pedestrians.
Broad Institute of MIT and Harvard, a nonprofit biomedical and genomic research center located in Cambridge, Massachusetts, wanted a way to visually demonstrate what takes place inside its research facility.
The organization installed a large digital display inside the vestibule of its lobby, which showcases video and high-resolution graphics that can be seen even in bright sunlight.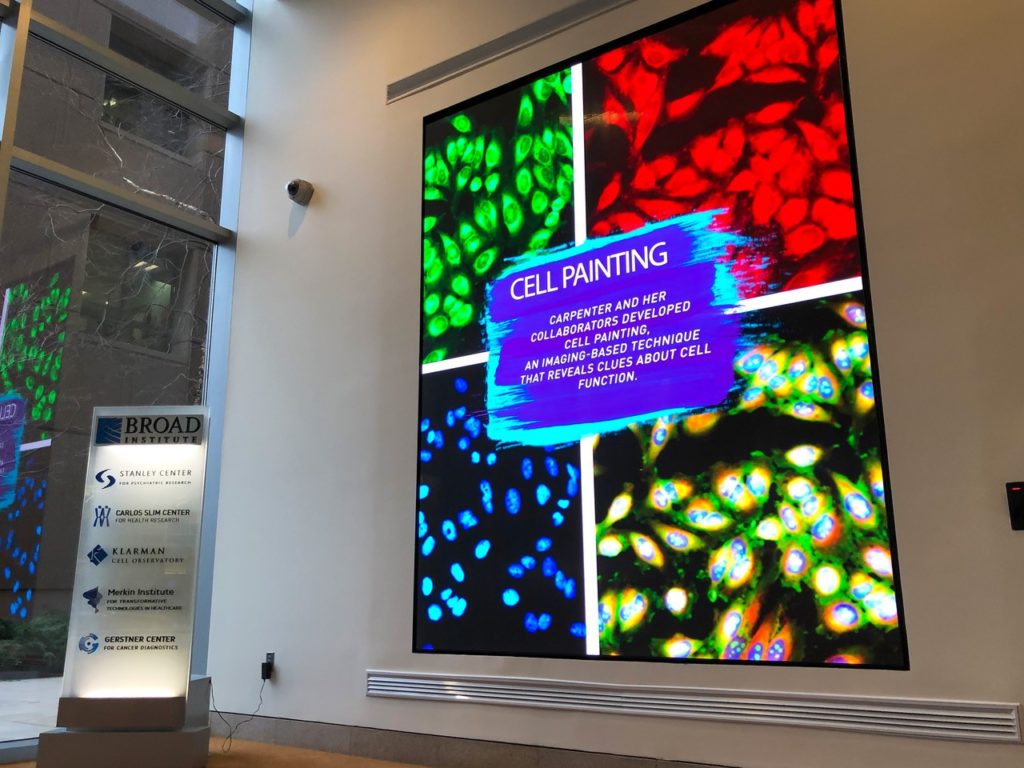 "The scientists at Broad are doing cutting-edge work that's exciting but can be difficult to explain. We felt that a digital display would allow us to share our message and mission with the community in a very artistic way," says Scott Sassone, manager of video production at Broad Institute.
Sassone's team creates messages using video vignettes, high-resolution photography, text, and graphics to give pedestrians and visitors a glimpse of the research taking place inside.
"The digital display is a 'front page' to our organization that gives us the opportunity to share what's important about Broad Institute in a highly visual way," adds Sassone.