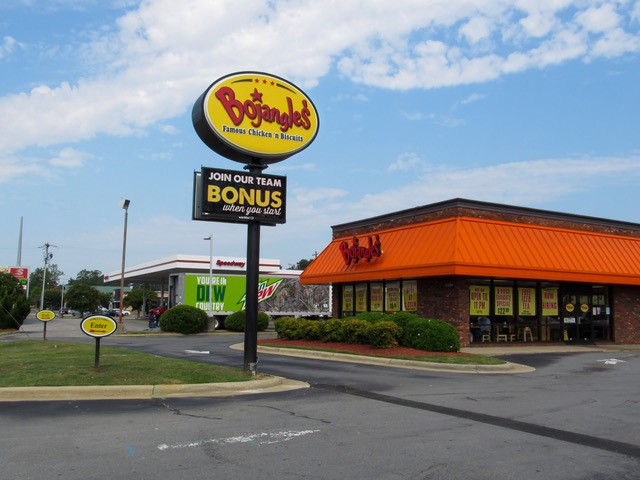 Employers battling a tight labor market are coming up with creative ways to reach potential new hires. From signing bonuses to free college tuition, employers are doing whatever they can to get noticed.
The restaurant industry — quick-serve restaurants (QSRs) in particular — has been especially hard hit. As consumers become more confident dining out, the low supply of workers threatens to derail efforts to reopen fully while delivering attentive and fast customer service.
Fortunately, many QSRs have the perfect tool to help with recruiting: a digital sign.
Digital signs can be especially powerful for "help wanted" messages for several reasons. First, customers who already know and support a business provide fertile ground for new employees. Secondly, customers who frequent the restaurant are not likely to have issues with commuting.
In addition, digital signs can be updated more quickly than posters, banners, and other traditional media, so messages can be instantly updated to promote specific vacant positions and new incentives.
If your signage customers opt to go with a digital sign for recruiting, help them succeed with these six tips:
Make ads specific to the hiring needs of the restaurant's location. The Sonny's BBQ franchise in Concord, North Carolina, takes advantage of its location alongside Interstate 85 and across from a busy shopping mall to post help-wanted messages to reach potential new hires who already frequent that area. Digital signs can also be used to promote restaurant hiring events and job fairs.
Highlight skills that are needed. A restaurant getting 25 applications for a cashier position won't help when they really need a cook. They can cut down on the number of applicants that don't have the skills they're looking for by advertising open positions and skills that are required. Likewise, if they're are looking for people to work part-time, after school, overnight, or seasonal/temporary hours, they need messages that appeal to those potential employees.
Make ads enticing. The restaurant needs to determine what makes its restaurant attractive to employees and promote that. This can include special incentives like signing bonuses and paid time off. Rutters, which operates 78 convenience stores throughout Pennsylvania, Maryland, and West Virginia, raised its starting wage three times in 15 months and uses its digital signs to promote its $15 per hour starting wage.
Promote company culture. The digital sign should make potential hires want to be part of the company. They can do this by promoting what makes the company special. This can include things like community service projects and local sponsorships, as well as accolades, such as being named a best workplace. Also, posting ads that thank and praise employees lets potential hires know they will be appreciated.
Rotate messages and make them attractive. One of the great things about digital signs is that messages can be easily rotated to keep them fresh and seen at the right time. If a restaurant is looking to hire students for after-school shifts, they need to advertise those messages when they will be seen by students. Schedule ads so potential new hires get a mix of messages that tell a broader story about opportunities at the company. Use photos, color, and movement to draw attention to messages and make people want to apply.
Create urgency and make it easy to apply. Once the restaurant has piqued the interest of potential employees, it needs to be easy to apply right away. Bojangles, which serves Southern food in more than 760 restaurants throughout the Southeast, captures and leverages applicant excitement by advertising a way for them to text to apply for jobs. The text code changes from time to time, and it is easy for their recruitment management team to make changes to messages as needed.
Finally, don't forget to upsell on other digital screens, like menu boards and ordering kiosks, to get the restaurant the help it needs. In addition to outdoor digital signs, Rutters places hiring messages on indoor digital screens and on pump screens to reach a captive audience.