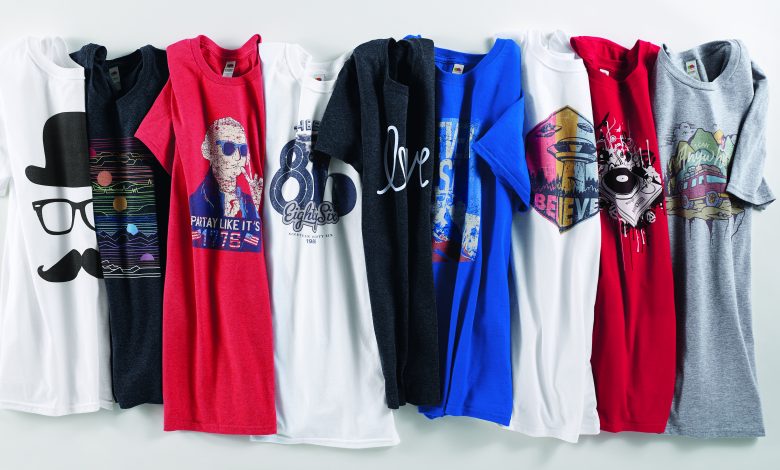 You can't expect to print your retro design on just any T-shirt or sweatshirt and get the vintage vibe you envisioned. Not all shirts are created equal. The key is to choose a garment with a lived-in, worn look. A few different options that work well are poly-cotton blends, in particular heathers or tri-blends. These blended fabrics are inherently comfortable and soft, and generally lighter weight. And since they are made with more than one type of yarn, the inks will react differently to each yarn, giving it a naturally tonal, muted effect.
Next, you'll need to pick a garment color. Neutrals work best for the vintage look but think beyond white, which is too new and bright. Good go-to options are oatmeal heather colors, heather gray, light blues, light pinks, military green heathers, browns, etc. You can also utilize your garment color in your design, letting the color of your shirt fill in space rather than adding another ink color. Since designs from 20-plus years ago used only two or three colors, this allows you to utilize less ink and keep your print lightweight, which is key for that soft, worn look and feel.
The right style
Need more vintage? The style of garment you choose can also add to your look. The ringer T-shirt with a contrasting color on the collar and cuffs, or varsity striping on the sleeves, is a classic retro style. A crop top can also give you a vintage feel, depending on which era you're following.
The fit also depends on what decade you're going for. The fitted T-shirt was trendy in the '50s and '60s. In the '80s and '90s, T-shirts took on a baggier style. If you're unsure, choose a more classic fit that emphasizes comfort. A classic fit is more traditional and looks good on a variety of body types.