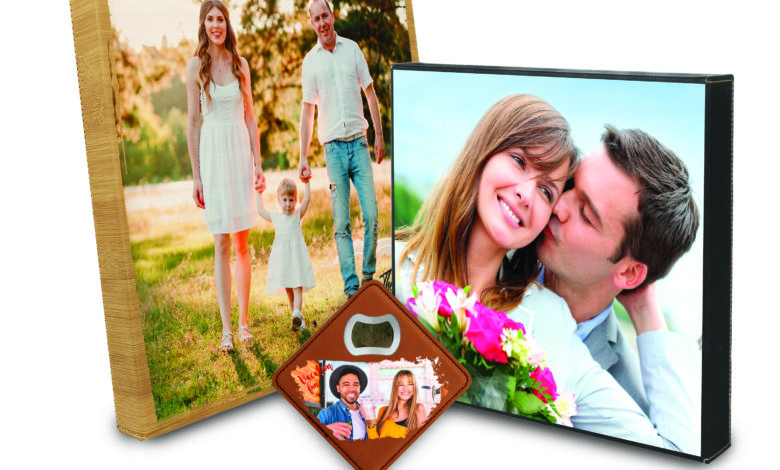 "New product" is a relative term this year. Normally, when placing orders, you can browse through thousands of new products supplied by dozens of wholesalers. Typically, you can offer your customers options across a wide spectrum of price points. However, thanks to COVID-19, nothing has been normal or typical for nearly two years. Normal now is dealing with the realities of product shortages, supply chain disruptions, and ongoing price increases.  
What can a business do? You can take control and get creative with the inventory you already have in your shop and the products that are in stock and available from suppliers. Instead of attracting attention with new products, try sparking excitement by giving a new look to available items. Keep reading for three examples. 
Heat transfer film on leather-like products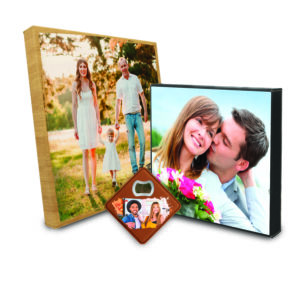 Ask anyone how to personalize a gift item made with leather-like material and they will immediately say "laser engraving." They won't even consider any other options because that's the only way we ever see faux-leather products personalized.   
It's the same with heat transfer material. We only think of applying it to shirts, jackets, hats, and other apparel. The idea of trying other uses doesn't even enter our minds.  
Fortunately, it doesn't have to be that way. This gift season, offer your customers something they've never seen before: Laserable Leatherette items personalized with heat transfer film.  
This unique combination offers several benefits starting with creative flexibility. Heat transfer material comes in a wide variety of colors and finishes including glitter, metallic, and atomic pearlescent. You can layer two or three different colors and textures on top of each other to add more personality. Print-and-cut heat transfer film, like Sef Graffiti, is another option. It offers the ability to personalize with full-color images. Imagine a family portrait printed on heat transfer film and applied to Leatherette wall decor or vacation photos pressed onto sets of coasters.  
Another benefit is ease of application. After designs are cut and weeded, and testing is completed to confirm the temperature and pressure settings, each application will typically require less than 20 seconds on the heat press.  
Durability is another benefit of personalizing leather-like products with a heat transfer material. The adhesives on heat transfer material can form strong bonds with the substrates and the film itself is often thin enough to allow the texture of the faux leather to come through. If the gift item is likely to get wet, your customer can be confident the heat transfer material will hold up well. Heat transfer material is engineered to retain its look through dozens of washings. As a point of reference, consider the coasters mentioned above. Condensation from cold beverages and the occasional cleaning with a wet cloth will not damage or weaken the heat transfer material. 
UV printing onto laserable giftware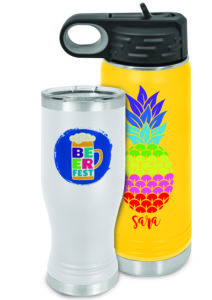 It's a frequently asked question during every trade show we attend. "How did you do this?"  
Usually, the product the attendee is holding when asking the question is an item from our line of Polar Camel High Endurance Drinkware. They're familiar with laser engraving the tumblers, coffee mugs, stemless glasses, and water bottles — plus pilsners and pints. Many are also aware of the options available through sublimation. However, when they see a powder-coated, solid-colored product that has been personalized with a full-color image or logo, they're intrigued and often a little confused and unsure how the bright colors were applied.  
The answer is simple — UV direct printing. If you're unsure what that is, UV direct printing is a type of digital printing that uses UV light to quickly cure the ink that is applied directly onto a material's surface. Since the ink isn't absorbed into the substrate, direct UV can be used on a variety of materials that can't handle traditional inks. Click here to watch a short video with more information. 
 If you have a UV printer but only use it on a few specific substrates, it's time to experiment with new ones. Look at the items sitting in your shop. If it can fit into your printer, try printing on it. You may discover a new fresh look that will catch your customer's eye and spark new sales this holiday season.  
If UV direct printing isn't part of the mix in your shop yet, it's time to give it a look. And if you like the look of UV printing but aren't ready to buy the equipment, consider outsourcing the production work until the volume of projects grows to the point you are comfortable purchasing a printer. This is a service JDS provides for many of our customers. If you'd like to learn more or request a quote, call 855-537-2228 or email [email protected].  
Specialty vinyl on wall decor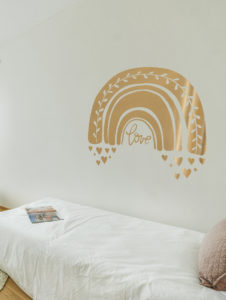 If you are someone who uses cut vinyl to create stencils for hand-painted wall decor, here's an idea to try — put down the paintbrush and use specialty vinyls to create the art design. It will not only allow you to create a new look, it will also help you save time.  
A wide variety of special films and finishes are available for indoor and even outdoor use. Indoor options include silver and gold decorative metal flake, metalized Florentine leaf gold and fine brushed silver, and a PVC film with the look of diamond plated metal. There's even a vinyl that looks, and acts, like a chalkboard. Outdoor options include vinyl that looks like Florentine leaf gold and large engine turn gold. All are capable of delivering a unique visual look with a powerful impact. 
It's safe to say, it will be a while before life and business return to "normal." In the meantime, we hope these ideas will help you overcome supply challenges and deliver gift season sales that are better than ever. If you have any questions, or would like to discuss these ideas further, call 800-843-8853 or email [email protected]. To find more how-to and product overview videos, visit the JDS channel on YouTube.