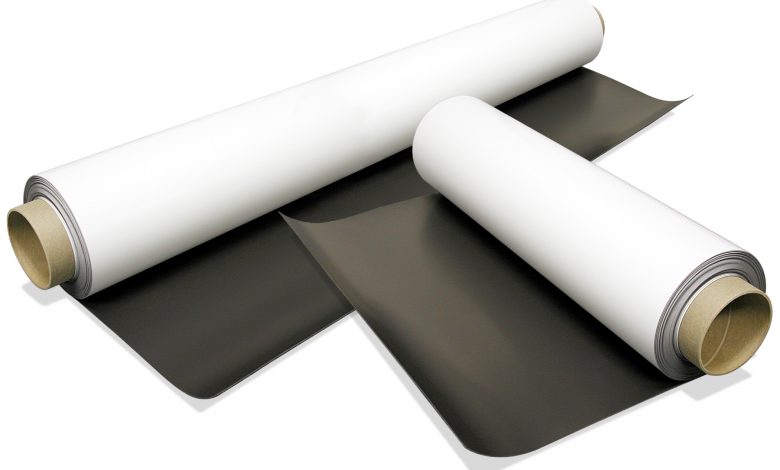 Magnetic signs continue to increase in popularity while the sign industry finds new and creative ways to use them. Car magnets, menu boards, and retail wall graphics are just a handful of the uses clients are coming up with for magnetic or magnetic-receptive materials.
Mike Gertz, Master Magnetics, says vehicle signage is the most popular use of his company's materials. It used to be that a company would have to print an image on vinyl and then laminate it to magnetic sheeting but, today, a lot of manufacturers, including Master Magnetics, have direct-print options.
"It makes it more cost-effective because it is faster to print directly onto a magnet for vehicle signs, refrigerator magnets, or calendars," he says.
Realtors, plumbers, and other professional service contractors are very interested in magnetic reminders of their services, including sports team schedules with their company logos on them.
Retail point-of-purchase (POP) displays using magnets are also becoming popular because magnetic graphic systems allow customers to easily change out and layer different graphics. Because the magnetic material can have a magnetic attraction to the metal parts in a printer, many people have turned to printing on magnetic receptive materials that they can then attach to magnetic material adhered to the wall with adhesive.
Retailers can make full wall murals this way they can then attach different promotions to.
A sporting goods retailer, for instance, could print a wall mural of someone hiking in the mountains and then layer on magnetic receptive promotions for backpack sales or hiking boots.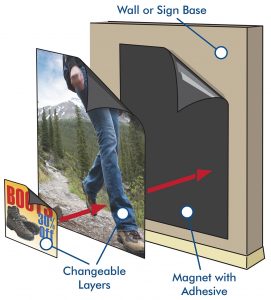 "You can also do more graphic design changes that way too," Gertz says. "It allows for efficiency and simplicity for store employees. You don't need a sign builder."
While not needing a sign builder isn't usually a good thing, this can be used as a selling point for sign shops trying to promote a retail display option using magnetic and magnetic receptive materials that allow for a lot of customization.
"We print all the materials for you, and you change them out as needed. You don't need to call a sign person out every time to change to a new sign," he says.
Gertz points out that magnetic sheeting is "more expensive than paper but, for the durability and ease of change and the different functionality it provides, it justifies the cost."
It also lasts longer and is reusable. The cost is determined by the thickness, width, and length. The thicker the magnet, the stronger it is going to be.
There's also magnetic sheeting in the market that is much thinner but still offers the strength of 30-mil magnetic sheeting.
"It is easier to work with, easier to ship, it costs less to ship. It's like the logical evolution of magnetic sheeting. It reduces the weight like anything else," Gertz says.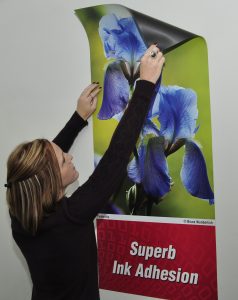 Doug Rummer, Magnum Magnetics, says also says car signage is one of the biggest uses of magnetic sheeting for his company. Other big applications include restaurant menu boards and grocery store directories, while retail continues to grow.
"If you go into Macy's or places that have graphics printed and mounted on displays, that's becoming more and more popular. I see a lot of mom and pop shops getting into local gas stations. When you walk in and see several hot dogs rolling around on a cooker, the signage and graphics being used to show those food items are magnets. They are printed magnets stuck to the machine, whether a coffee machine or a hot dog machine or a cappuccino machine," he says.
Most sign shops buy the material in rolls. For car signage, the material must be 30 mils thick to have enough strength to stay on a moving vehicle. Everything else uses 20-mil thick material.
Magnum Magnetics also offers super-wide printable magnets for standard 40-inch and 48-inch graphics, signage, and display applications.
"If it is a unique project that might require technical expertise and something out of the norm, we will work directly with sign shops," he says.
Alice Martin, Adams Magnetic Products, says "the day-to-day effectiveness of magnet media and magnet receptive media is impressive."
The industry is attracted to it because it is easy to install, the media is portable, which means it weighs less and is more cost-efficient to ship because it can be shipped rolled in tubes. Temporary seasonal messages and flash sales can be layered on top of existing graphics, and they are easy to print on because they are compatible with most ink systems, she says.
Adams Magnetic Products offers a wide-format flexible magnet sheet that is available in 40-inch, 48-inch, and 50-inch widths for signs, screen printing, POP displays, digital imaging, and more.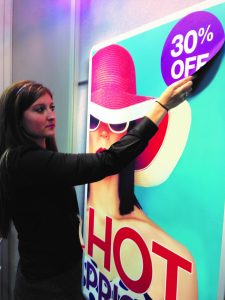 "It can be used for most print media applications, and we can cut or slit it to any length and provide it on rolls or in sheets," she says.
FlexMag Industries in Marietta, Ohio, offers a different take on the 30-mil magnet that can be used for car signage. Instead of laminating a 4-mil vinyl on top of the 30-mil magnet, its FlexCoat-EZ has a durable printable coating applied directly to the magnet.
"That accomplishes a couple of things," says Steve McLevey, FlexMag Industries, a division of Arnold Magnetics. "It's the same amount of magnet, the same holding force, but you don't have 4-mil of thickness the vinyl puts on there. Instead of a 34-mil magnet, it is closer to 30."
That helps with the clearance on wide-format printers.
"By eliminating the vinyl with adhesive, you eliminate the potential of curling. You are not marrying two substrates together," he says. It also eliminates cutting issues. On magnets with vinyl laminated on top, the adhesive can gum up the blades. Cutting vinyl on a magnet can also dull the blades so the vinyl will get ragged.