Innovative Dental, a Springfield, Missouri-based cosmetic dental practice, captivates passing motorists on busy U.S. 65 with a billboard-size digital sign, and the firm wasn't required to apply for a permit for the display.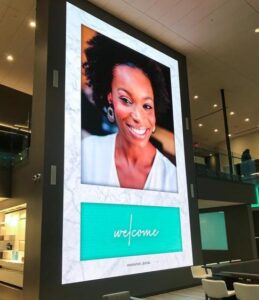 That's because the 27′ X 16′ display is in the dental practice atrium and is viewable through a two-story glass wall.
Innovative Dental is on the leading edge of a new trend in digital signage: direct-view LED displays. These large displays are taking the place of stacked LCD screens in lobbies, restaurants, transportation hubs, and elsewhere and deliver distinct advantages over them.
The big picture
LED displays are brighter than LCDs, so images remain crisp and vibrant even in direct sunlight, essential in lobbies and atriums with windows. They can also be more easily configured to fit custom installations, such as around doorways, curved walls, and corners.
Notably, the modular design of digital displays makes repair or replacement of modules easy, and the cost per square foot is often more affordable than deploying multiple LCD screens. They also don't have the choppy display and integration issues that plague arrays of multiple LCD screens.
4 reasons direct-view LED displays are gaining popularity
1. Immersive experiences set the tone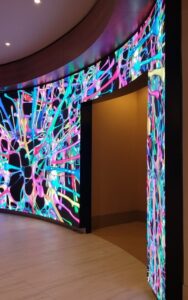 Increasingly, businesses stand out from the crowd and create viral moments using digital signs. Wild Horse Pass at Gila River Resorts & Casinos in Chandler, Arizona, added a video wall that arches over a doorway and follows a curved wall.
The 12′ X 25′ display is used to welcome guests as they prepare to board a glass-enclosed elevator to the facility's 11th-floor restaurant. Guests know they are in store for something special as they view larger-than-life videos of chefs preparing meals and beautiful photos of gourmet dishes. The video wall also serves as a backdrop for guest selfies on social media, providing priceless organic marketing.
2. Ability to bring indoor messages outside
When placed in front of a window, indoor digital displays can be seen from the street. This allows businesses to use more creativity in their content with moving graphics or videos that might not work on an outdoor sign due to local ordinances.
Oberweis Dairy in O'Fallon, Missouri, uses a 13′ X 7′ digital display in its atrium to greet customers and promote menu items while also luring customers in from the parking lot with pictures of ice cream and other items. Messages can be updated quickly to reflect available inventory.
3. They create a great first impression
Sometimes it's important to make a statement, and this can be hard to do in large facilities like airports and transportation centers. The height of ceilings, scale of these buildings, and architectural trend of adding windows for natural light can dwarf and wash out LCD screens. However, an LED wall is eye-catching and remains vibrant even in bright light.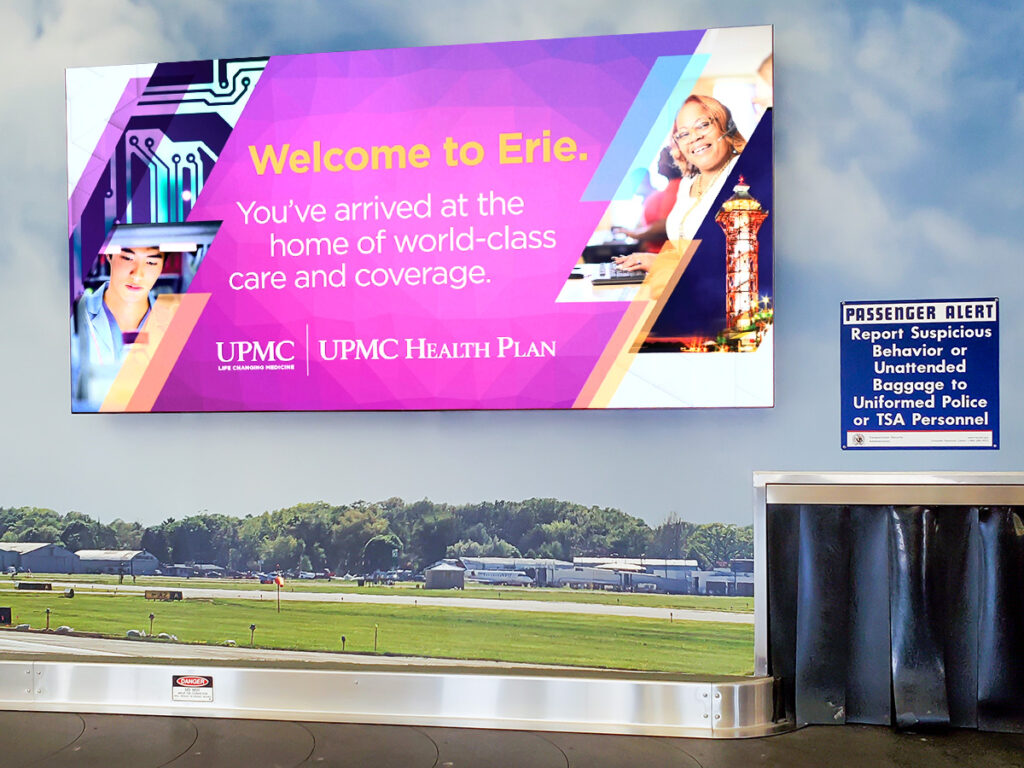 The Erie, Pennsylvania, International Airport welcomes travelers with a 5′ X 10′ display that educates terminal visitors about onsite services and local attractions. The 24/7 operation of such facilities also gives LED displays an upper hand because picture quality doesn't degrade over time like LCD screens.
4. Direct-view LED displays deliver marketing flexibility
With easy-to-program software, digital displays enable organizations to quickly update content to reflect marketing campaigns, current events, inventory, and other changes.
Marketers can easily achieve synergy between all advertising formats, including indoor, outdoor, printed, and online content. Photos and videos that are used in online content can be easily adapted for use on interior displays, so marketing efforts are efficient as well.