Are you looking for a solution on how to profitably and efficiently handle custom garment decoration orders? In your quest for the answer, you may have encountered direct-to-film (DTF) using inkjet printers or white toner transfer (WTT) using xerographic laser printers.
Similarities
Let's start by looking at the similarities between these technologies. Both involve printing on a film—a PET-based transparent material with a special coating suitable for the specific process. White coloring is used in both to provide an underlying base for the CMY or CMYK colors. Both use an "after print" adhesive additive—the "marry sheet" for WTT or the "powder" for DTF—which provides the bonding agent for durability on the substrate. Both heat transfer applications support a wide range of cold peel-based substrate types and result in bright colors with fine detail and good durability.
Differences
Now let's breakdown the differences. One of the most important differences is the technical support. DTF might as well be called DIY-DTF. Because of its newness in the market, everything about it is unsupported do-it-yourself work. DTF is built around modified inkjet printers with no warranties and limited supply. On the other hand, WTT is supported on many levels, starting with the laser printer manufacturers providing warrantied printers to dealer partners who offer parts, support, and training.
The next difference is the process. After managing to build a suitable inkjet printer for DTF and filling it with special liquid textile inks, you need to find a RIP to run it. While a few new RIPs are coming on the market for these devices, most of the current sources for modified printers use questionable or hacked RIP software that you will have to figure out on your own. WTT has five to seven years of RIP development behind it that drives a dry powder toner printer.
The unique textile inks used in DTF have improved from traditional direct-to-garment (DTG) inks by using a smaller pigment size. Both DTG and DTF inks suffer from pigment settling, an issue that requires both vigorous agitation and frequent heavy cleaning cycles. However, while the larger pigments in DTG cause inkjet head clogging, this is a bit less of a problem with the DTF inks. None of this is a consideration with WTT.
DTF deposits a liquid ink layer on the film using a somewhat slow inkjet printer. After printing, and while the DTF ink is still wet, comes the application of the adhesive powder by shaking it across the sheet and flicking the back of the sheet to knock off the excess powder. After the powder is applied, it needs to be melted and the ink dried. Everyone seems to have a different method, ranging from a pancake griddle to a convection oven and more. With this comes the risk of accidentally boiling the ink.
WTT uses a fast laser printer. After printing, the dry print is then "married" with an adhesive sheet in a heat press and peeled while hot to apply the adhesive layer.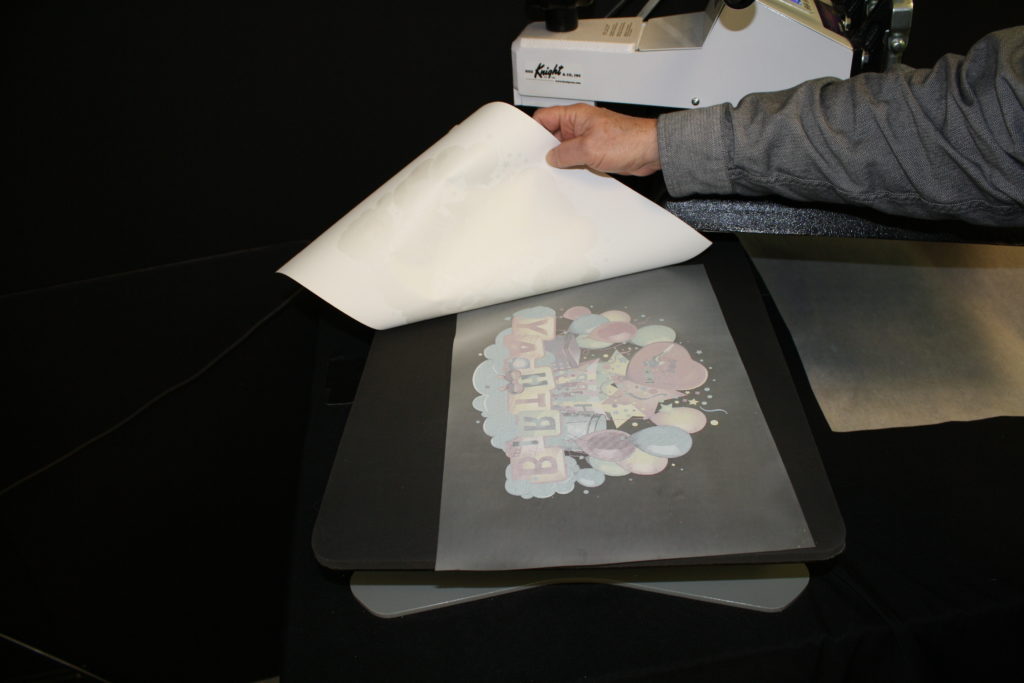 Both technologies are applied using heat transfer at similar temperatures and pressure with a cold peel. The adhesive powder used in DTF combined with the textile inks does provide a nice feel and stretchy result. WTT requires the use of digital rasterization techniques to achieve a somewhat similar result.
Looking ahead
If you are very DIY oriented and have an industrial shop, then DTF has a somewhat lower cost of entry and might be your choice. If you are looking for something with low maintenance and reliability along with support, then WTT is likely the better choice. Looking ahead, both technologies will improve. There will be softer, stretchier adhesives for WTT, and for DTF, I expect to see an expanded variety of adhesives for specialized purposes.