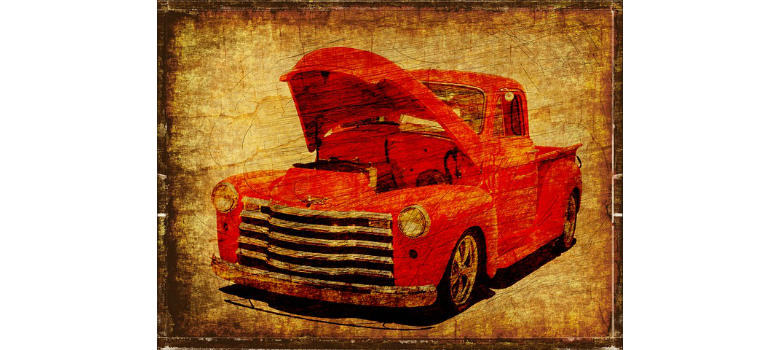 Cozy, comfortable, and lived-in looking screen prints are all the rage now. Distressed prints look more relaxed and customers have gravitated toward this style for years. Lucky for screen printers, it is easier to achieve this look than you might think.
Ink
Water-based and discharge inks are two popular printing styles because they dye the fabric rather than sit on top like plastisol. Water-based inks are preferred for light garments, and discharge inks are preferred for dark garments. These inks tend to have a hand feel at first, but after the first wash, the prints almost feel non-existent.
By mixing plastisol with an additive or a base, a similar hand feel can be achieved. The colors are more vibrant using plastisol, but if you want to achieve softer tones use a thin ink layer and light pressure on the squeegee. For best results when printing a vintage T-shirt with plastisol, you want to distress your design before exposing. This can be done in your design software of choice. Consider scanning web-like material, rocks, tree bark, cracked paint, and old wood to create a texture for your designs.
Consider using a 230-mesh count screen no matter what inks you choose.
Shirt Material
Tri-blend or 50/50 garments are preferred for the soft worn-in style but printing a distressed look on cotton T-shirts is possible. Use a textured design to add to the illusion and an additive to soften the plastisol.
Tri-blends may come with some difficulties. They are typically made of three materials: cotton, polyester, and rayon. This blended material is subject to dye migration which occurs when the polyester is heated and the dye in the shirt turns to gas. The shirts are stretchy in nature, so be mindful of how you load the shirt. Another thing to keep in the back of your mind when running your shirts through the dryer is that rayon burns at high temperatures.
50/50 garments, a blend of polyester and cotton, are the most popular shirts used when completing this look. While the polyester fibers are subject to dye migration at high temperatures, they are easier to cure.
Final Notes
Avoid using an underbase. An underbase requires curing with a flash, which means your shirt will stay consistently hot creating a higher risk for problems like dye migration.
Print wet-on-wet.
Use a thick ink deposit and light squeegee pressure on a 230-mesh count screen.
After a little consideration and prep work, you can create a lightweight vintage T that will have your customers coming back for more.