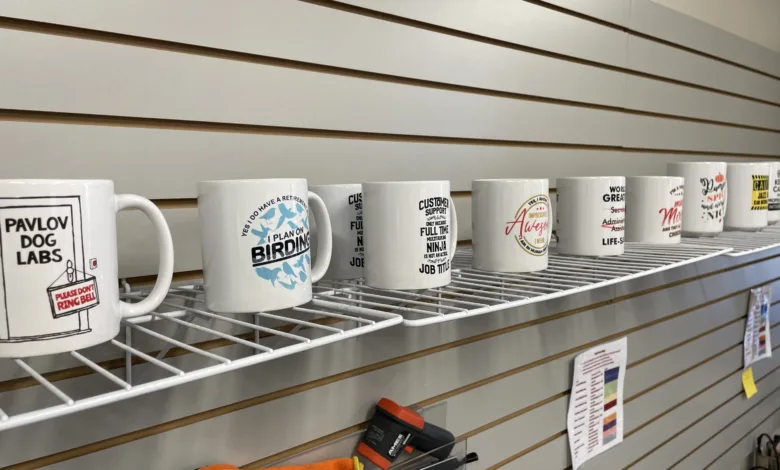 The drinkware market has grown to become the second-largest market for custom decoration after apparel, valued at $4.35 billion in 2021, says Michael Barron, West Coast sales manager for Inkcups. The market is expected to expand at a CAGR of 3.61% by 2027 and reach $5.39B billion.
Expansion is fueled by the incredible growth in e-commerce due to Covid. Because customers have changed the way they purchase things, demand has risen for shorter run sizes and lead times, high quality multicolor graphics and personalization, says Barron.
"As many customers sell their products on multiple websites, we have seen the demand for automation in the Web-to-Print space," he says.
JDS Industries offers UV printing and engraving in-house at its facility in Sioux Falls, South Dakota. It has three Trotec and four Epilog lasers and three direct printers, so the company produces up to 1,000 cups daily.
"I see the drinkware market not as oversaturated but starting to get people's cupboards full," says Sara Thompson, fabrication supervisor at JDS. "At JDS, we still stay ahead of it. We offer new colors, shapes and different ounce options, lid options. We are still trying to keep those unique. Obviously adding any personalization adds some uniqueness to it."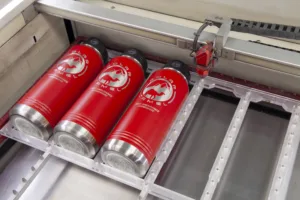 The company provides blanks to other companies wanting to sell personalized products. The company then fabricates them and personalizes them.
Thompson says that the company's 20-ounce mug is the most popular size, with 30 ounces a close second, and while handled coffee mugs are still in demand, JDS' high endurance line is the most popular. It has a 20-ounce tumbler that comes in 18 colors now. The company started with stainless steel and black.
"I was here when we were getting into it. I do a lot of new product testing. It is fun to see the new lines develop and new colors we come up with," she says.
JDS' UV print department is starting to grow but it hasn't reached the status of the company's laser printing.
Thompson says she believes her shop will need another UV printer in the future, the same way its lasering has grown to seven lasers, two of which have rotary attachments for doing cups.
JDS doesn't compete with its customers. It sells its cups at wholesale prices and its fabrication department charges low prices.
"Our customers turn around and upsell them and make a good margin. It is definitely a plus of the Polar Camel line being so affordable as wholesale," Thompson says.
Drinkware decoration
The top processes for decorating drinkware include digital UV, dye sublimation, laser engraving and screen printing.
Make Your Mark Design in Broomfield, Colorado, primarily handles print-on-demand fulfillment for individuals who sell personalized products on Etsy and Amazon. It uses sublimation, UV printing and laser engraving to decorate its drinkware.
"Sublimation is our number one department for drinkware," says Travis Ross, owner of Make Your Mark Design and cohost of the Print on Demand Cast, a podcast that relates to print-on-demand. "The beauty of it is you are sublimating. It is actually dyes going into a polyester-coated substrate."
Heat and pressure are used to turn the sublimation inks from a solid into a gas, making drinkware microwave- and dishwasher-safe. The downside to sublimation is it must be done on light-colored mugs or glasses because sublimation doesn't include white ink.
"You can't dye anything white. You always have to start with a white or light substrate because of the injection of gases on top of that," Ross says. For full color designs, every part of the transfer must be covered in ink or dye. If customers want dark-colored drinkware, the company gets around that by offering UV printing direct to object. The downside of UV printing is that the ink is more susceptible to scratches and other damage.
Laser engraving offers another side to drinkware decoration and has become very popular when it comes to insulated mugs, water bottles or tumblers. If the drinkware is powder coated, the laser can engrave anything into the colored coating, producing beautiful silver stainless steel designs. The downside to laser engraving is that it is not full color.
Thompson says that powder-coated Polar Camels are in big demand because they can be personalized with a laser or UV printer.
"That's starting to pick up for sure for people, just to keep recreating a better product using the base of the cup and being able to add color to it has been big for us. That part of the industry is growing," Thompson says.
When a shop laser engraves stainless that is not powder coated, it must apply a black coating that the laser can burn off. The downside of this process is that it can get damaged over time, says Ross.
Make Your Mark Design has a couple of Epilog laser engravers that use a rotary device to rotate drinkware during the process. If the drinkware has a handle on it, "sometimes you need to put something in the drinkware to weight it down, so it won't skip while moving," he says. "If nothing is in there it might not quite turn as well as it should."
The company runs Mimaki UV printers with kebab attachments. Because of how they are designed, the machines can't handle drinkware with handles.
With sublimation printers, it is imperative that a shop buy a mug press. They can be cured in a conveyor oven if the mug is wrapped in a silicone sleeve to provide pressure on the transfer, but Ross says it is much easier to just purchase a clam shell heat press.
Out of all the processes the Colorado shop uses to decorate drinkware, sublimation ends up being the most economical, Ross says. "You can get a kit to convert your existing inkjet printer and then you need a mug press that you can get for a few hundred bucks. You can do it in your house. It doesn't take up a lot of room."
Sublimation can be labor-intensive with multiple steps and supplies needed, says Inkcups' Barron. "Additionally, there is a lot of waste with plastic and paper. That being says, dye sublimation is a great option for smaller companies just starting out as consumables are not too expensive and there are a wide variety of heat presses available," he says. "Once a company grows, they may outgrow this process as it quickly becomes cumbersome."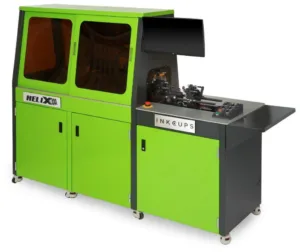 Sublimation also has the lowest learning curve. Other processes, such as UV and laser, require users to learn how to use either RIP software or a program such as Adobe Illustrator that offer line art or vectorizing.
UV machines can be cost-prohibitive because UV technology is more expensive, Ross says.
"Cylindrical UV printers can print up to 8.66 inches tall onto a vessel using CMYKWV on a wide variety of drinkware vessels. Most notably, these designs achieve 360-degree full wrap printing with a wide variety of custom effects," Barron says. "Digital UV is quick, instantly cures due to UV LED lamps, eliminates set up steps and waste."
UV printing also has a short learning curve, he added.
Screen printing is "best suited for printing simple graphics and one- or two-color logos as registration becomes increasingly difficult with more colors. Long run size jobs are the best fit as there is a lengthy setup process compared to comparable methods, especially digital with multi-color vibrant artwork," Barron says.
Screen printing offers limited printing effects and capabilities for short runs and usually requires a larger space to accommodate the press, he says. The process also has a longer learning curve to become proficient.
Bob Keller, president of ink manufacturer Marabu North America, says that the biggest reason customers will choose screen printing over digital is that they receive an order for more than 500 pieces. In screen printing, the cost per print goes down with the number of vessels printed.
Screen printing takes very little money to get started, between $10,000 and $20,000, compared to direct to object printers, which cost $100,000 to $200,000, he says.
Many companies that have never done screen printing are jumping right into digital, Keller says. "They don't want to deal with emulsions or screens. It is complicated stuff. "For ease of use, Barron says he prefers digitally decorating drinkware with cylindrical inkjet printers.
"The growth of digital printing is dominant as it offers the most flexibility for small and large runs (down to one-offs), the greatest amount of print options on multiple vessel types and promises easier and quicker set up compared to comparable methods," he says. Digital also achieves "effects such as mirror print on clear glassware, tone on tone, as well as stunning metallic effects on metal vessels that dye sublimation and screen printing simply cannot recreate."
The ink used is important, no matter which type of printing a shop decides to embrace, Keller says. Marabu offers a color manager that allows companies to enter a Pantone Matching System color or PMS, based on its two ink lines, to determine which colors to mix. When talking about UV ink specifically, most are not safe for food contact, he says.
Keller recommends that shops "make sure their ink supplier can stand behind their inks."
It is important to know what is in certain inks to determine if they are food safe. If they are safe, printers don't have to worry if their ink designs come in contact with a person's mouth. If the inks are safe, a printer can print their designs right up to the lip of the vessel without worrying about users ingesting monomer, he says.
"We confirmed with our product that you don't have to worry about it. We've done an FDA test and can print to the end if we want," he says.
Inkjet printing technology has advanced considerably over the past five years, with companies such as Amica and Inkcups producing faster and more efficient machines.
Marabu has partnered with a Huntsville, Alabama, company, LSINC, to distribute its PeriOne inkjet direct-to-object printer in North America.
LSINC first developed the PeriQ360, a printer that was built with four tunnels that can simultaneously print four objects at a time with an automated infeed and arms to grip.
"It is a game changer. We can do things now that we could never ever do with screen printing. We are doing embossing, imitation etch, multiple colors," Keller says. The PeriOne is an entry-level, single-spindle version of the PeriQ360 that can only print on one tapered or cylindrical object at a time. The output of this printer is dishwasher safe and more economical to produce.
He says that he has hundreds of screen printers looking for a digital solution and that is why he developed a partnership with LSINC to make a smaller version of its PeriQ360.
Marabu North America distributes inks made in Germany by its parent company for screen, pad and digital printing.
"We do consultative work with our customers to make sure they get everything they can get. We will come onsite to make it work," Keller says.
Most ink manufacturers will have their inks tested independently once a year. Keller recommends that companies get a copy of those documents for their files. When it comes to determining which type of printer to purchase, he says it is important to do the math and buy the machine that "makes the most sense for you as an end user."