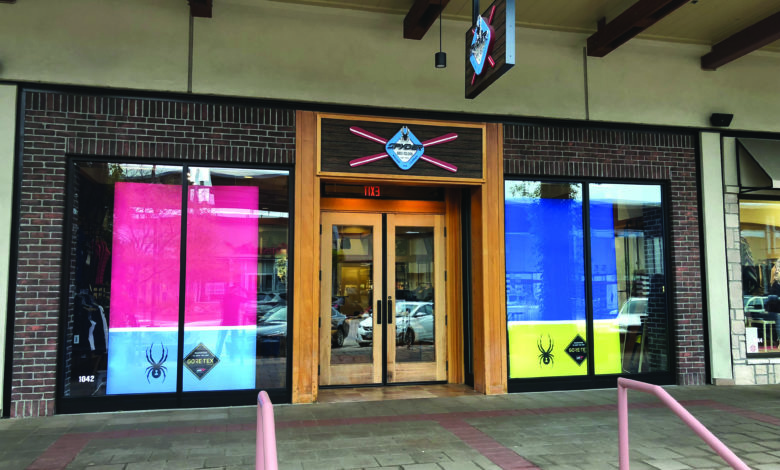 The large overbearing directories in retail outlets and POP signs made out of hard substrates are being replaced by digital messaging and fabric graphics. Digital signage is gaining headway over static imagery. The technology is a cost-effective way to attract and engage customers, according to John Steger, Kaston Group, adding that simplicity is also key in the messaging.
"Many companies are making the transition from complex logos and artwork to more simple and icon-driven imagery, and retail signage is following course," Steger explains. "We see this simplicity in signage from branding to messaging as a growing trend. Today's shoppers are pulled in so many different directions that a simple graphic can really stand out from the crowd."
Multiple surfaces for signage
Another trend in retail signage is moving beyond the traditional wall and counter signage to presenting signage on multiple surfaces.
"Current trends in retail signage include everything from counter, ceiling, and wall displays down to more traditional floor standing signage," says Martha Prouty, Displays2Go, a manufacturer and eCommerce retailer of point-of-sale displays. "We are seeing more interest and use of displays with signage already incorporated into them as well as floor decals and window clings."
Prouty also sees less usage of commodity signage in standard profiles, non-dynamic signage, and standard flat banners. Instead, the growth is in digital and virtual signage, particularly video, digital and interactive displays; dimensional/3D; contoured and rotating displays; multimedia displays; digital posters; and collage displays.
"Organic materials and modern styles are competing for popularity. Mixed materials allowing for the creation of compelling 3D signage is also popular," Prouty adds.
There's also been a shift in the past one to two years from simple messaging in signage to signage that reinforces a brand and creates a user experience.
"Changes in shopping behaviors are affecting signage placements," Prouty says. "Retailers are recognizing the need to attract customers with innovative communications to engage with the customer amidst increased competition on and offline. Retailers are really seeking to reflect the essence of their brands."
Signage in high-traffic areas
The placement of those messages also has changed over the years in an effort to attract more customers.
"We are finding that high traffic areas both inside and out are typical sign placement areas to take advantage of the most impressions. Signage also appears on retail fixtures to encourage making a sale and on the ceiling and floor for wayfinding," Prouty says.
Windows and floors are becoming increasingly popular for the placement of all types of signs to add to the customer experience, says Jen Smithson, Post Up Stand Inc., a supplier of custom banner stands, trade show booths, and retail displays.
"Advertising on windows and floors isn't new, per se, but as retailers look to create more emotional and experience-based settings, they've gravitated toward less traditional signage placement," says Smithson.
That's because retailers have to compete with online shopping and find that experiential signage is one way to do that.
"Why do I want to go to a store when I could make my purchase from the comfort of my own home?" Smithson poses. "Retailers need to present a counterargument to this rapidly increasing consumer mindset. The answer often comes in the form of creating more of an 'experience' than just a place to shop. Unique signage in unique locations can help create a setting for those experiences."
The unique signage comes in many products, such as window clings, vinyl decals, and floor decals.
"Window clings with both clear and white backgrounds give versatility in use," Smithson adds. "Floor decals should have strong adhesion, but most consumers like the added feature of having the decal be repositionable."
As such, Post Up Stand has seen a slight dip in the purchase of traditional signage hardware, though traditional signage (snap frames and banner stands, for example) remains popular, according to Smithson.
"But as new forms of signage emerge and technology brings about new printing techniques, digital signage, and more, we expect to see the prevalence of traditional signage decline," Smithson says.
Opting for fabric graphics
Along these lines, in the last three to five years, retailers have been opting for fabric graphics over rigid substrates because of the versatility the type of signage offers, says Jesse Diamond, owner of The GrafX Group and Photo Craft Imaging in Boulder, Colorado, which provides retail signage, retail displays, and decor, as well as photo enlargement and fine art printing and framing.
The signs are used for various applications, such as wayfinding, product lists, lifestyle and product imagery, and decor. The signs are geared toward smaller batch, on-demand jobs.
"They're just easy to install. They're easy to move around the country if you're a national business, and they're nice. They're beautiful," Diamond argues, explaining that because the signs are made out of fabric, they can be folded down and shipped in a box instead of a tube or on pallets in the case of rigid signs.
Typically with fabric graphics, the material (usually polyester) is dye-sublimated with an ink transfer, or the image is directly printed onto the fabric. The fabric has a silicone edge to stiffen it, and that edge is placed into the channel of the frame, which makes for greater versatility of the signage.
"Now, they have made nice equipment that's able to produce nice, sharp graphics," Diamond adds.
The graphics can easily be swapped out, though they work better with larger signage for the visibility of the image. Signage also can have a blackout layer to allow for printing on both sides.
"They have special coatings on them, so the ink just doesn't bleed through them," Diamond explains.
GrafX uses recyclable, eco-friendly materials when possible. "For us, it's a trend for our clients to request it," Diamond says. "They just don't want to put up something and throw it away. If they can recycle, that's a bonus."
Banner signage also is moving away from vinyl to fabric, at least for indoor applications. "They're heavy and cumbersome," Diamond says about the vinyl options. "It's so much easier to deal with fabric signs and graphics."