A very on-trend look started as an ancient form of creating unique fabric patterns, becoming popular in the 1960s as tie-dye in psychedelic shades. Today's tie-dye designs bring a kaleidoscope of colors and patterns to headwear, gaiters, and masks to make an undeniably cool fashion statement.
Tie-dye's roots go back to early Asian and South American cultures and later in African cultures. Though the late 20th century saw tie-dye radiate a psychedelic vibe, tie-dye's recent resurgence is attributed to quarantine culture, and its focus on items people can make at home. Tie-dye items made their way to the marketplace as the demand for the unique, colorful patterns grew into a phenomenon for all ages — from nostalgic baby boomers through Gen X, Millennials, and Gen Z seeking retro styles.
C'mon, get happy with tie-dye headwear

Revamping popular headwear styles with a tie-dye spin presents an exciting and fresh take on classics. Your customers can find tie-dye patterned fabric enveloping their favorite headwear. Plus, because the trendy patterns themselves are attention-getting, tie-dye headwear draws more eyes to cap logos.
Tie-dyed billed trucker and dad caps can provide an explosion of color and friendly feelings worn at sports and music events, on vacations, or wherever good times reign. They might even be a perfect fit for some workplaces. As long as they're constructed for durability, they can make a lasting impression anywhere.
Tie-dye knit hats are cold-weather must-haves. Not only do they keep your head warm, but they also provide a warm-hearted vibe to outdoor activities. Perfect for warm, sunny weather and outdoor fun are bucket hats in colorful tie-dye patterns. Delivering shade to your head, tie-dye buckets also spread goodwill with their cheery designs. For an instant smile, catch a glimpse of Justin Bieber on Instagram chillin' in his tie-dyed bucket hat.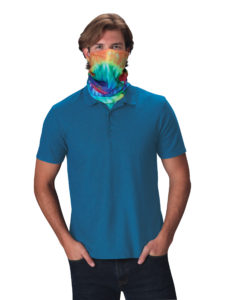 Groovin' with tie-dye face coverings
Even though face masks might be essential in many settings, the masks don't have to be blah. Providing a bright twist, tie-dye face masks can liven up a look at work and play. True-life friends and "Friends" stars Jennifer Aniston and Courtney Cox have been spotted making an impact in their tie-dye patterned face masks.
Neck gaiters function in tie-dye duality, as a groovy neck or face covering. Customers can make their mark while protecting their faces against dust, wind, sun, or the cold wearing tie-dyed neck gaiters. Tie-dyed neck gaiters can also add some fashion flair to any outfit.
Appealing to all: color combos and tonal tints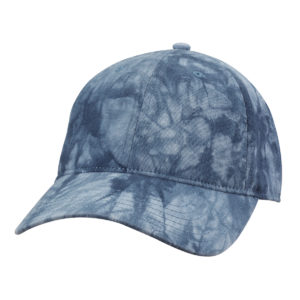 For some, a medley of colors in one headwear item, mask, or gaiter can show off your customers' spirit. Other customers might prefer a more understated look that still sports unique tie-dye patterns. Know that the demand for headwear, masks, and neck gaiters bursting with an array of colors is just as great as those items in monotone designs. All they need is quality construction, great price points, popular styles, and distinctively hip, joyful tie-dye patterns.