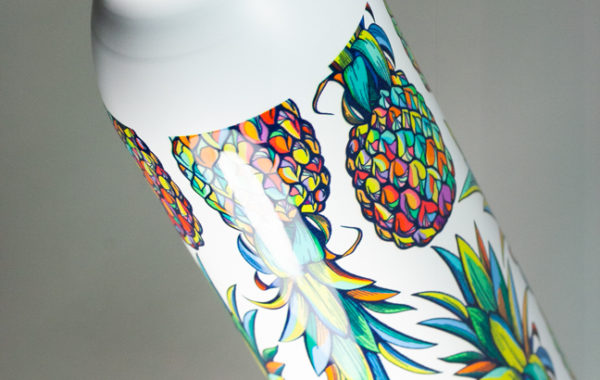 A recent study showed that 80% of consumers are more likely to buy from a company that offers personalization. Direct-to-object printing hype began a few years back and has continued to gain momentum. In fact, Inkcups' CEO Ben Adner spoke about direct-to-object printing back in 2017, but the concept is just as hot today.
Direct-to-object printing overview
Bypass the need for any type of label and print directly to the substrate of choice with direct-to-object (DTO) printing methods. This in turn saves money, time, and cuts down on consumables. By digitally printing directly on the product numerous doors are opened for personalization.
UV-LED inkjet printing technology is the key component to direct-to-object printing. The printing machine hosts a print head that propels tiny droplets of UV ink directly onto a 3D product. The 3D product is held in place by specially designed tooling.
As DTO, appeals to the promotional and industrial industries, the products often require the assistance of a custom fixturing, otherwise known as tooling, to hold the product in place during printing. Some companies offer the service of creating custom tooling for their customers for a wide variety of products. For example, a company can create tooling to hold your product in place — whether it be hand sanitizer bottles, golf balls, or anything in between.
The most common applications for DTO printing include drinkware, favors, promotional items, and industrial products. UV inkjet printing machines come in a wide variety of sizes and types to accommodate any product to personalize.
Direct-to-object printing machine options
Small-format flatbed printers
Don't let the word 'small' fool you, small-format UV inkjet flatbed printing machines are capable of industrial high-speed printing. They offer the same high-resolution print quality as machines of a bigger scale. Small-format flatbed printers are ideal for smaller, shorter objects such as coasters, USB drives, fishing lures, and mint tins.
A UV flatbed printer with a bed size of 21″ X 25″ can print this entire area in a mere 90 seconds. It is a great option for those who need to accommodate flat or slightly curved parts up to 6″ tall. Products printed in a small-format UV inkjet flatbed printer could be either one product or numerous small items. Some are equipped to suction-hold a traveling fixture, otherwise referred to as tooling to print a tray of items at once without the fear of the products shifting.
A UV flatbed printer with a print area of 19.6″ X 24.4″ can print highly detailed personalized phone cases, coasters, napkins, and a variety of toys all of which are ideal candidates to handle the conveyor unload system into a bin. Whether you are printing one-off or multiples, a printer of this size can handle your printing needs.
Wide-format flatbed printers
The next category of flatbed printers is that of the wide variety, accommodating larger print areas as well as bulkier items that stand tall. Wide-format UV flatbed printing machines are perfect for printing on coolers, basketballs, footballs, or boxes.
For these applications and more, a 43″ X 24″ printer can get the job done. These printing machines are specially designed for near-constant use, heavy-duty industrial printing, and promotional products printing.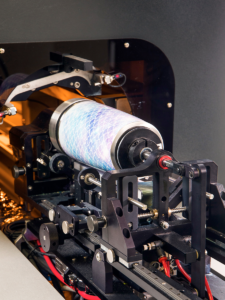 Industrial digital UV cylindrical printers
UV cylinder inkjet printers appeal to the drinkware industry — especially businesses that want to streamline production and skip the step of adhering a label to their bottle. Industrial UV cylindrical printers will decorate directly on any glass, sports bottle, stainless steel tumbler, shot glass, growler, crowler, beer bottle, or wine bottle.
Cylindrical printers with a single print fixture are favored in the drinkware industry as they offer full-coverage seamless graphics and print features like mirror print, tone-on-tone, and contour print. Dependent on the artwork size, these printers can print six to eight parts per minute, making it an ideal option for businesses with medium to high demand production runs.
If the single and double cannot keep up with volume demand, then an even larger station may be a better fit for your operation.
Ink
DTO printers can often accommodate numerous types of UV inks. The traditional four colors offered are cyan, magenta, yellow, and black (CMYK). There are many different types of inks available because there is no such thing as universal ink. UV inkjet inks are specially formulated for the intended substrate. Inks are often paired with a specialty primer for optimal adhesion. Direct-to-object printers typically print with CMYK, white, and varnish.