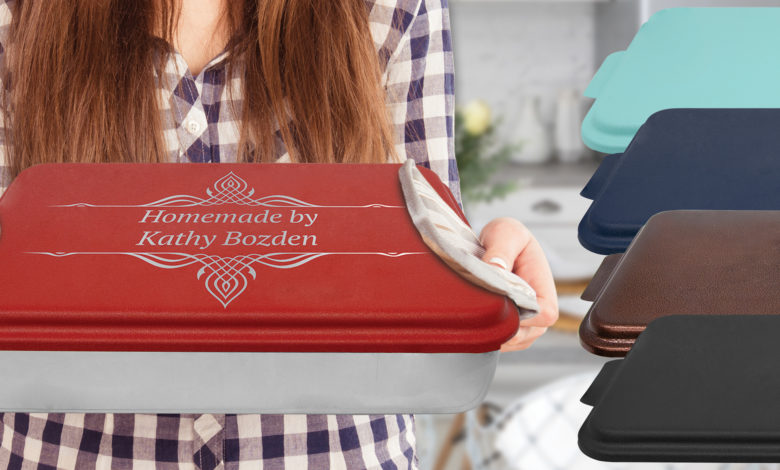 For a new and exciting gift idea, consider 9″ X 13″ X 2.5″ aluminum cake pans with powder-coated lids. The lids snap easily and securely to a pan and offer a large personalization area and a beautiful contrast to the bright silver cake pan. After working with these lids, the fabrication experts at JDS have developed some great tips to help you create unique, heirloom-quality gifts.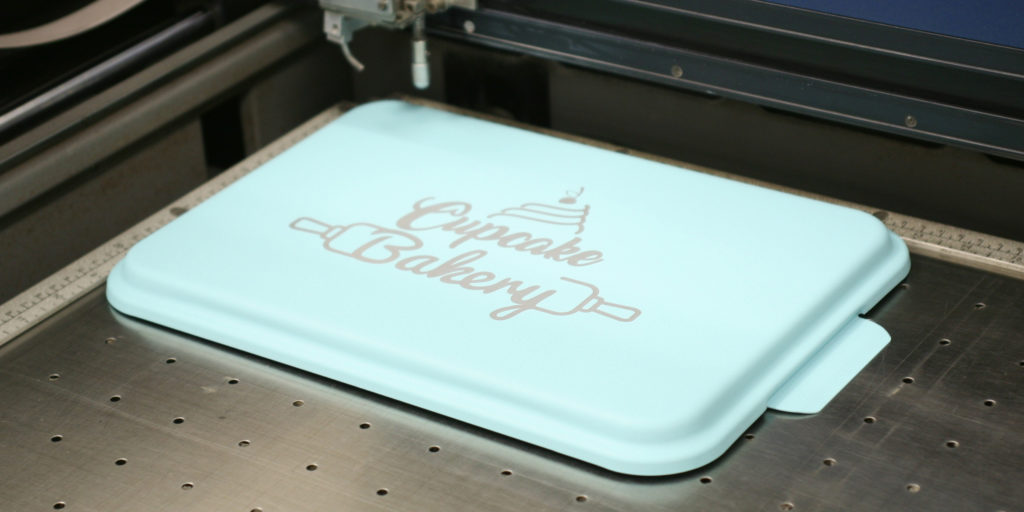 With the simple rectangular shape, quick placement in the top left corner of your laser makes for easy swapping during larger runs.
Find a template for art placement and/or proof purposes on the JDS website under Marketing Information.
When lasering the lids, you want to use settings similar to the powder-coated settings used on our line of Polar Camels.
Use autofocus, a high power, and mid to low speed at 600 dpi.

Use LA Awesome to remove any excess residue left behind after lasering.

A single pass at your laser's ideal settings is all that is needed. A double pass can lead to a rainbow effect on the metal as the aluminum is a soft heat conductive metal. The powder coat itself takes quite a bit of power to break through, so your max power may be needed first, and then adjust your speed to minimize your time and still break through the coating cleanly.

Going too fast with your laser speed can lead to a banding effect on the aluminum underneath the powder coat.
You're going to need to clean the residue left from the heat of the laser. Spray some LA Awesome and let it sit for just a few seconds, then wipe it with a microfiber towel. This method is the best cleaning option to remove the excess residue left behind.
These cake pans are extremely easy to laser, user friendly, and make an excellent gift for any occasion. The perceived value of the high-end look of these pans also offers a significant margin on pricing.
For step-by-step instructions, check out the video available on the JDS YouTube channel, and as always, if you have questions, give our fabrication team a call at 855-537-2228 or email [email protected]