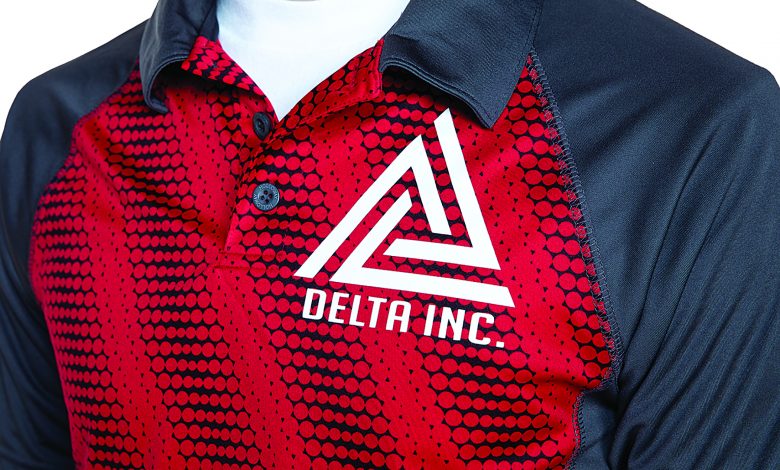 As a quick summary, dye-sublimation is a decorating method used to put patterns and designs directly on a polyester garment. It may be dyed in the manufacturing process, but the fabric is also dyed using a special printer and solid inks that transform to gas and are transferred to the garment.
Dye migration, also commonly known as bleeding, occurs when the ink used to dye the fibers of a polyester garment are reheated to temperatures above 280 F. At this temperature, the dyes are reactivated and released from the fibers. When they are released, the dyes will come through heat transfer vinyl and cause discoloration, like a faint red (or pink) number on a red jersey.
How to avoid dye migration
There are a few things you can do to avoid dye migration and keep your apparel from getting ruined.
Check the label
Dye migration will only happen in 100% polyester fabrics or blends with a high polyester content because of polyester's dyeing or a sublimation process. Heat and pressure are used to dye these fabrics, so heat and pressure reapplied may cause the rerelease of dye.
A garment's care label tells you what the fiber content of your garment is, including percentages of each kind of fiber. These numbers give you some insight into how to decorate these fabrics. The higher the polyester count in your material, the more caution you need when choosing a heat transfer vinyl to apply.
Test first
Test fabric for dye migration using your heat press. Put the garment on your heat press, cover with a kraft paper cover sheet, and heat apply for 10 seconds. With unstable inks, you'll see ink residue on the cover sheet after application — those are high-bleed fabrics. If you don't see any or not much, you have a low-bleed material.
When heat applying on sublimated items, it's essential to test the heat your garment can withstand without causing dye migration with the specific heat transfer vinyl you'd like to apply. Skipping this step saves you time in the short run but causes unknown production and quality issues in the long run.
Decorating low-bleed polyester
Cool your heat press. To prevent dye migration with your heat press on low-bleed garments, you can set the temperature as low as possible (within the material's recommended application temperature range). This reduces the amount of heat activation of the dyes in the fabric.
A dark color heat transfer vinyl is also an option for decorating low-bleed polyester fabrics; any dye migration will not be visible on the HTV.
You can try using a heat-transfer vinyl that is opaque and thick. This kind of heat-transfer vinyl doesn't block dye, but because of its opacity, it helps hide dye migration in most low-bleed polyester fabrics.
What about high-bleed polyester?
High-bleed, fully sublimated garments require the most care to prevent dye migration and ruined garments. Heat-transfer vinyl manufacturers have developed material options for these kinds of garments that block dye migration. You must read the product information to be sure you're purchasing vinyl that's lab-tested to prevent dye migration.
Many heat press manufacturers have developed platens with heat from the lower and upper platens. Using higher temperature on the underside of a garment, when paired with a heat transfer material designed to block dye, reduces both the risk of scorching and dye migration.
Decorating polyester and polyester blends present challenges for the garment decoration industry. With the growth and popularity of performance wear and other polyester blends, dye migration is an inevitable one. Be prepared by reading the garment labels and testing garments and materials.