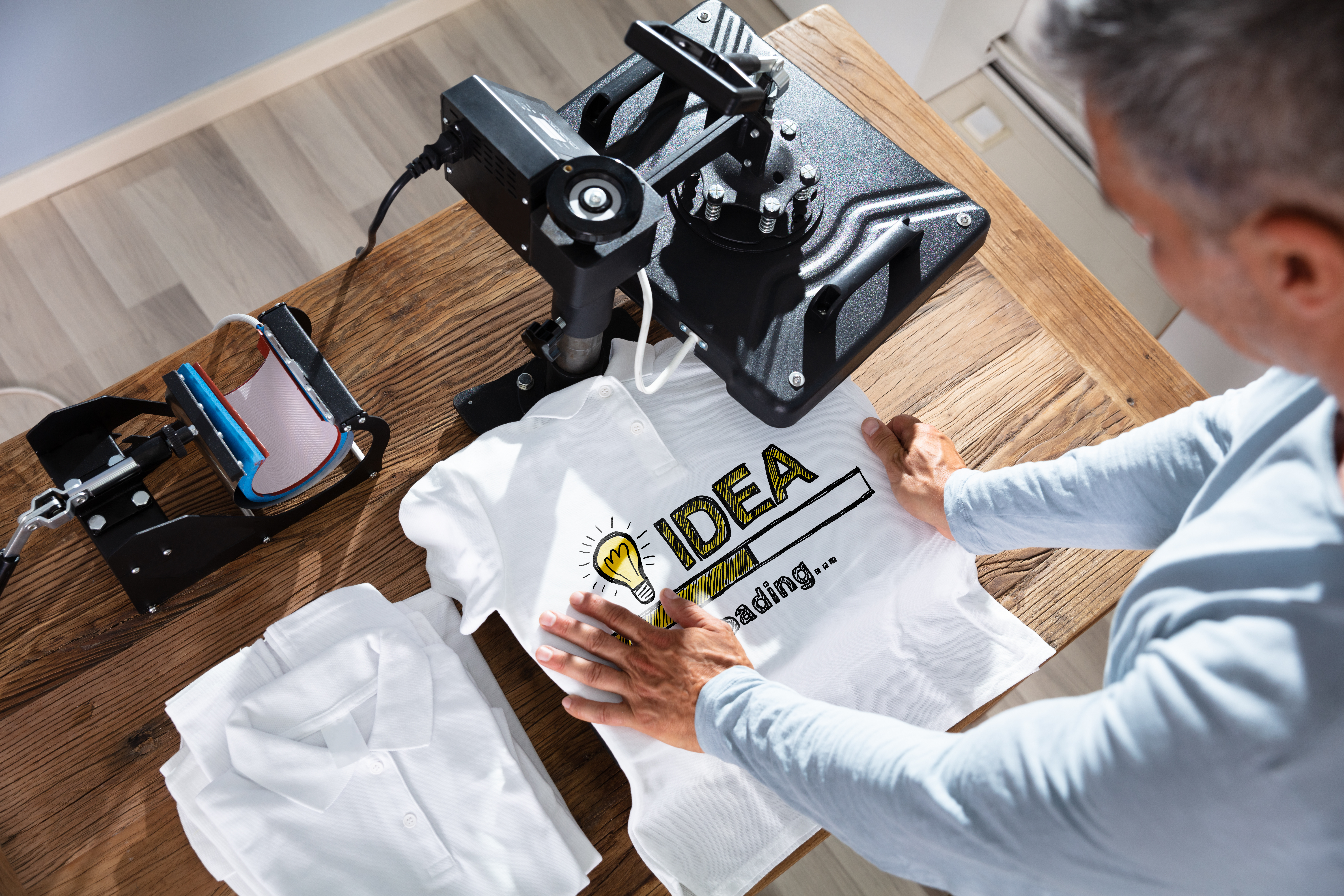 The threats of additional shutdowns and restrictions sparked by COVID-19 going into 2021 cause more anxiety for those of us who've already braved a tumultuous 2020. Even with the arrival of vaccines, it makes sense to be concerned about how the pandemic can continue to significantly impact your decorated apparel business, but there are practical ways to turn your company around. If in the past you've been focused on certain niches such as athletic teams or concert events, you'll want to pivot within your niche or find new ones to keep your shop in the black.
Switching gears to change the focus for a business isn't a new concept. It's just become more usual because of COVID-19. Software pioneer Mitch Kapor points out that "15% to 20% of companies have undergone radical transformations" recently. In the U.K., while small and medium-sized businesses feel more resilient than they did in April 2020, more than half may be out of business within 12 months under the current conditions, McKinsey reports.
The good news? More than half of small and mid-size enterprises (SMEs) planned to take advantage of the government's furlough program, where the government pays up to 80% of a furloughed employee's salary each month. That percentage increases to more than 75% of businesses with more than 10 employees. Those businesses employ more than two-thirds of the overall SME workforce.
However, a word of caution: Many businesses aren't prepared to change and adapt their practices and, if necessary, reinvent themselves to survive the economic changes rippling out from the pandemic. We've identified some ways to think about pivoting in the context of five of the most popular niches decorated apparel providers serve.
So, what's pivoting?
McKinsey also reports that COVID-19's effect on SMEs across the U.K. is "immense": Pre-pandemic, 89% reported stable or growing annual income; now 80% say revenue has declined. SMEs have concerns in other areas as well:
24% are afraid of defaulting on a loan
24% are worried about their ability to retain employees
28% doubt their ability to sustain their supply chains
38% expect to have a reduced staff post-pandemic
36% will postpone growth projects
You may remember the episode of "Friends" where Ross moves a couch by screaming for the others to "Pivot!" with him. But in the business world, pivoting means shifting your company's focus and trying a new approach or strategy to succeed, even when you have other factors stacked against you. Some people think this means a dramatic shift in the company.
However, pivoting can include shifting from one set of customers or market to a new one. It can also mean revamping your product line or seeking new ways to market your products and services to fit the changing needs of customers.
How do I pivot my shop?
Now that you know what pivoting is, let's see if it's something your company needs to consider doing. First, ask yourself these three questions:
What's working right now in my business?
What's not working right now in my business?
How can I better serve my customers?
If things were going well prior to the pandemic, but your company is now taking a substantial hit as we head into 2021, then it's probably time to pivot. This doesn't necessarily mean this shift is permanent for your shop. If a vaccine is successful—and things go back to "normal" in six months or a year—then you could pivot back to your prior successful work model. But, at the same time, this new model may give you the opportunity to actually expand your market base in the long run.
Here's an idea: Build online stores for your clients, so you can load popular apparel styles and designs into an eCommerce shop for them. You'll then be able to funnel all of their orders through your shop, and completely fulfill them from start to finish. This gives your clients the ability to bring in some extra revenue, without worrying about all of the legwork and it also helps you secure a steady stream of orders.
These online stores will be a boon long after the pandemic, especially for uniform pieces and fan gear. To optimize your site experience, look into platforms specifically designed to sell decorated apparel like InkSoft, Printavo, OrderMyGear, DecoNetwork, and Spirit Sale, to name a few.
You could easily do something similar for local companies, schools, teams, and organizations, as a way to help them fundraise or bring in some extra income for them. This helps you expand your client base, and also makes sure that all of their decoration needs get funneled through your business.
5 popular niches to serve
Here are some ways you can update your 2021 business plan to pivot within these five popular niche markets.
Restaurants: This market has been hard hit by closures during the pandemic and many of them have had to pivot themselves, by switching to carry-out and delivery only. One way to handle this is with a fundraiser for local, independently owned restaurants. Some locations are partnering with apparel decorators to create unique, custom-designed T-shirts to sell in an online shop. This way, regular customers who can't support them with food orders during and after the pandemic can still show their support by buying a T-shirt, hoodie, or cap. You can also use an online store so employees can choose uniform pieces or thank-you gifts.
Athletics: This niche has always been a big moneymaker for apparel printing shops. However, most teams have either shut down their activities or are playing inside of empty stadiums and fields. That doesn't mean their fans aren't looking for apparel. Set up a special limited-edition 2021 fan apparel line including team logoed masks. You can then open up an online shop or even partner with the team to set up a presence on their website.
Concerts: There were a lot of shifts in musical concerts and comedy performances in 2020, with some concerts being held online or outdoors to allow for social distancing. Others are holding live concerts (or even pre-recorded performances) at drive-ins and fairgrounds. Partner with these locations to get a schedule of upcoming shows and, if possible, team up with them to be their exclusive decorated apparel provider for online merch sales.
As people have gotten so used to purchasing online, we expect a more permanent change to fan merchandise. Even if people attend live events again, they can purchase their apparel easily online from their smartphones, selecting their exact size and design without needing to stand in a long line. Your shop can continue to collect those orders, print the apparel, and send them directly to end-users. That saves time and effort for your customers, and you become a more valuable one-stop-shop partner if you can take on fulfillment as well.
Educational institutions: While many schools have transitioned to online learning—and may use this model as an option for the foreseeable future—that doesn't mean they no longer are selling uniform pieces, clubwear, spiritwear, or athletic apparel. In fact, many are looking to buy new computer equipment or other tech upgrades to help with online learning, so they need assistance more than ever. Reach out to these schools offering to set up an online store for selling spirit apparel and other logoed items. You can even encourage the online schools to promote school spirit with a weekly "spirit shirt" day for the students who show up online.
Fitness and yoga: Many yoga studios and gyms have shut down—or are open with very limited capacity—but that doesn't mean people aren't still turning to this practice for relaxation. To do that, they'll need comfortable clothes to stretch in. Just like restaurants, yoga studios are looking to find steady streams of revenue, and selling logoed apparel is an alternative way to bring in much-needed income.
Pivoting doesn't mean throwing in the towel and trying something new. It's all about assessing what is and isn't working, and then shifting slightly to open up new revenue streams. A lot of successful entrepreneurs will tell you that for your business to survive, it needs to learn how to adapt and evolve with the times. Now's your opportunity to start thinking about how your business can evolve, and grow in ways you may never have thought of before.