News
Presto Tape Aims to Promote Wellness in the Workplace
Through the company's care team coordinator positions, it strives to care for its employee's mind, body, and soul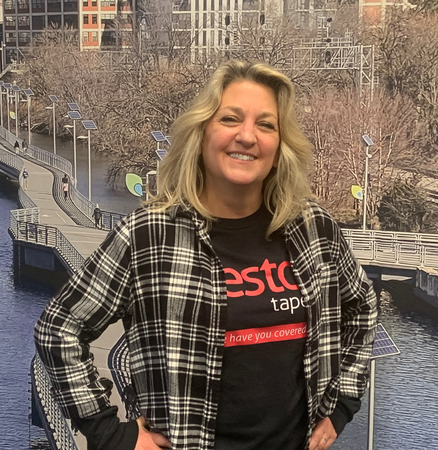 Robyn McCloskey, care team coordinator at Presto Tape (Image: John McDevitt/KYW Newsradio)
Many companies, within and outside of the graphics industry, are attempting to make an effort to prioritize their employees' well-being. This has led to specific positions within organizations to fulfill that purpose.
As reported by KYW Newsradio, these positions are generally referred to as CHOs, or chief happiness officers, and usually involve overseeing the care of workers.
Presto Tape, a Bensalem, Pennsylvania-based manufacturer of tapes, surface protection films, and print media, has done just this through its care team coordinator positions.
Presto Tape's care team
According to Presto Tape, its CHOs — dubbed care team coordinators — strive to care for not only an employee's happiness but their mind, body, and soul.
"We cultivated a very safe culture here, that people know I can have problems and it's OK. I can have needs, and it's OK; and I feel that we really rally around each other here," Robyn McCloskey, Presto Care team coordinator, told KYW Newsradio.
On top of a safe organizational culture, the company also offers ministry services, counseling, emotional support services, and free finance management classes.
"We care for people," Presto President Rich Speeney told KYW Newsradio.
"I think other companies are doing it strictly for business purposes — that if I have happy employees, the company is going to do well. Maybe this sounds holier than thou, but that's really not the motivation. The motivation really is to care for and impact people, not make them happy so that they work harder today," Speeney concluded.