News
Design'N'Buy Integrates with Cloudprinter
Cloudprinter CEO Martijn Eier says the collaboration will help print service providers go global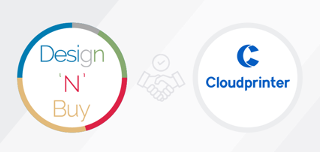 (Image courtesy Design'N'Buy)
Design'N'Buy, a web-to-print solutions provider, announces its integration with global printing provider Cloudprinter.com. The integration is said to give customers access to global print-on-demand services in 104 counties around the world.
"Integration between Design'N'Buy's web-to-print technology with Cloudprinter.com's global print network via a connected app has been (a) natural cooperation," states Nidhi Agrawal, president and CEO of Design'N'Buy.
Through Сloudprinter.com's global solution, Design'N'Buy customers can fulfill and ship orders by routing them to the nearest print facility before being shipped to the final destination. In addition, customers can also integrate with Cloudprinter.com and become a print partner, gaining access to the company's routing algorithm.
"This mutually beneficial collaboration between Cloudprinter.com and Design'N'Buy will help print service providers to go globally by printing and shipping around the world," says Martijn Eier, CEO and co-founder of Cloudprinter.com.