News
BERNINA Launches New Mobile App
The app gives customers the ability to see which accessories are compatible with their BERNINA machine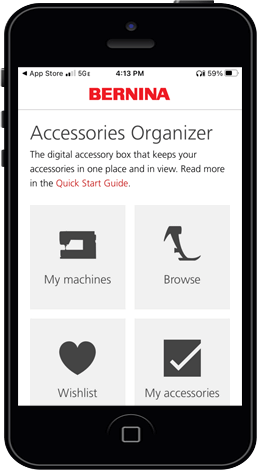 (Image: www.bernina.com)
BERNINA of America, a manufacturer of sewing and embroidery, announces the launch of its new BERNINA app.
According to the company, the app marks the return of a popular accessory feature, which gives customers the ability to see which accessories are compatible with their BERNINA machine. They will also be able to explore the company's entire product range, which dates back to 1997.
The app also includes support information and tutorial videos. Additionally, users will have full access to BERNINA's blog, WeAllSew.
"We are thrilled to share the new BERNINA app with our creative community," says Paul Ashworth, president and CEO of BERNINA of America. "This app will give BERNINA customers and loyalists a new way to access creativity with a simple push of a button. Whether you are looking for the perfect accessory or inspiration for your next project, the BERNINA app is the perfect companion to enhance the creative experience."