Laser engraved gifts display branding, personality, and creativity on everyday objects. Leatherette cork, for example, has a modern, textured look, which you can easily add personalization to via laser engraving.
Supplies needed for engraving
Laser engraver
Leatherette cork journal
LAZ32 or LA's Totally Awesome all-purpose cleaner
Microfiber cloth
5 steps to laser engrave a cork journal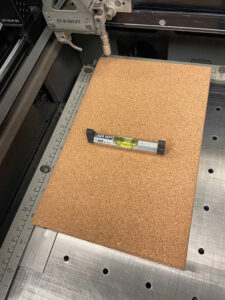 Step 1: Download a journal template or measure the journal. Your art should be 100% RGB black.
Step 2: Place the journal in the upper left corner of the laser bed. Make sure the journal is level.
Step 3: Adjust your engraver's focus so it's on the surface of the journal.
Step 4: Engrave the journal using your usual leatherette settings. Settings can vary slightly as each laser is a little different. These are settings we have tested and use that you can use as a starting point.
35W – 600DPI – 65S – 20P
60W – 600DPI – 80S – 15P
80W – 600DPI – 90S – 15P
Step 5: Clean with LAZ32 or LA's Totally Awesome and a microfiber cloth.
Pro tip: It's ideal not to have any residue, so during testing, try to avoid wiping it clean because the material is so porous it can worsen. Dialing in a fairly fast speed and mid to low power is essential for cork.